The Hungarian spa town of Hévíz is famous for its sulphurous thermal lake and its unconventional therapies.
The devil himself once worked the fields around here, but it was such hard going that in a fit of rage, old Harry flung down his plow so hard that it shot deep into the earth – or so the ancient Hungarian legend goes. Warm water henceforth flowed from a spring on that spot and has fed the thermal lake ever since.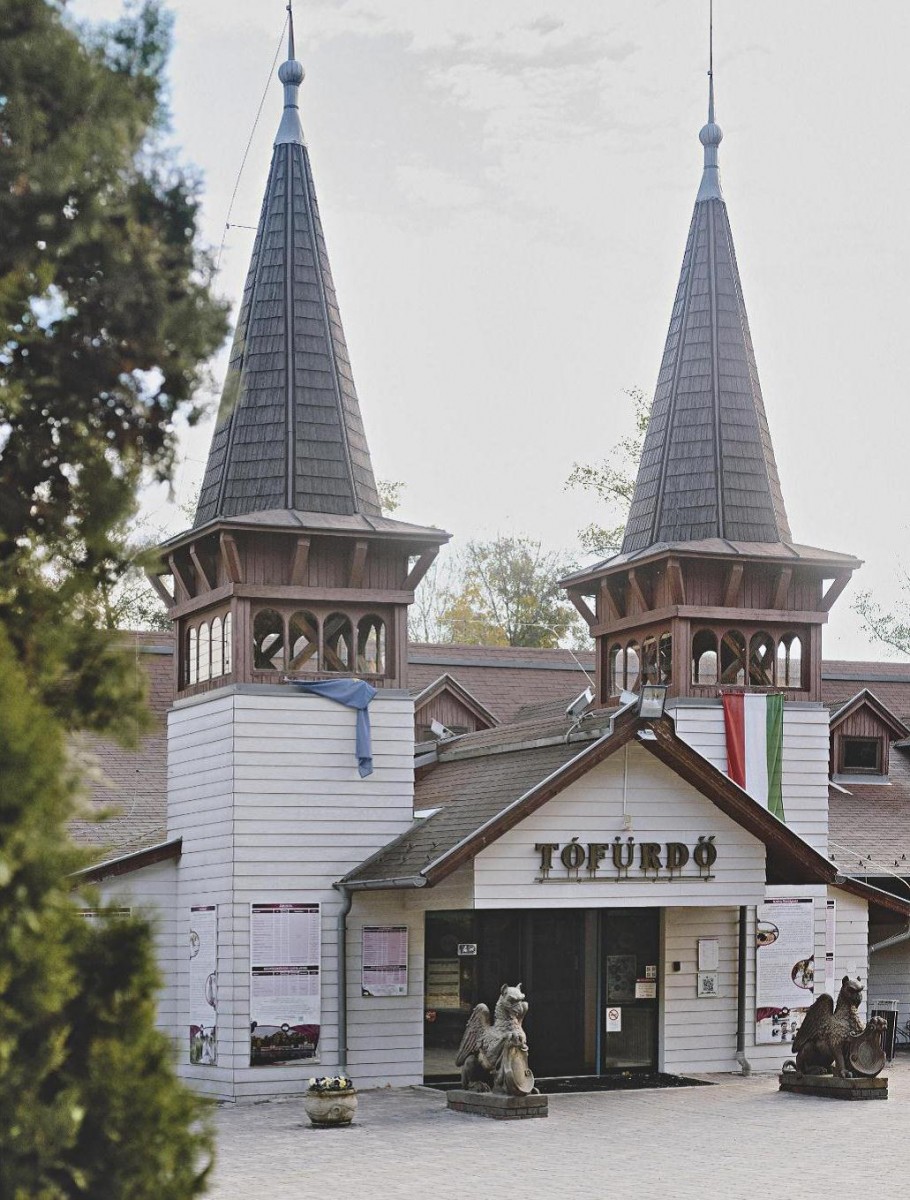 Resort entrance
The reality on this early fall morning in Hévíz is less dramatic:14 degrees Celsius and a light drizzle. After a cool night,a white mist hangs over the deep-blue lake and the bathhouse on stilts at its center with its pretty wooden spires. It looks straight out of a Disney film, but smells like a sulfur mine.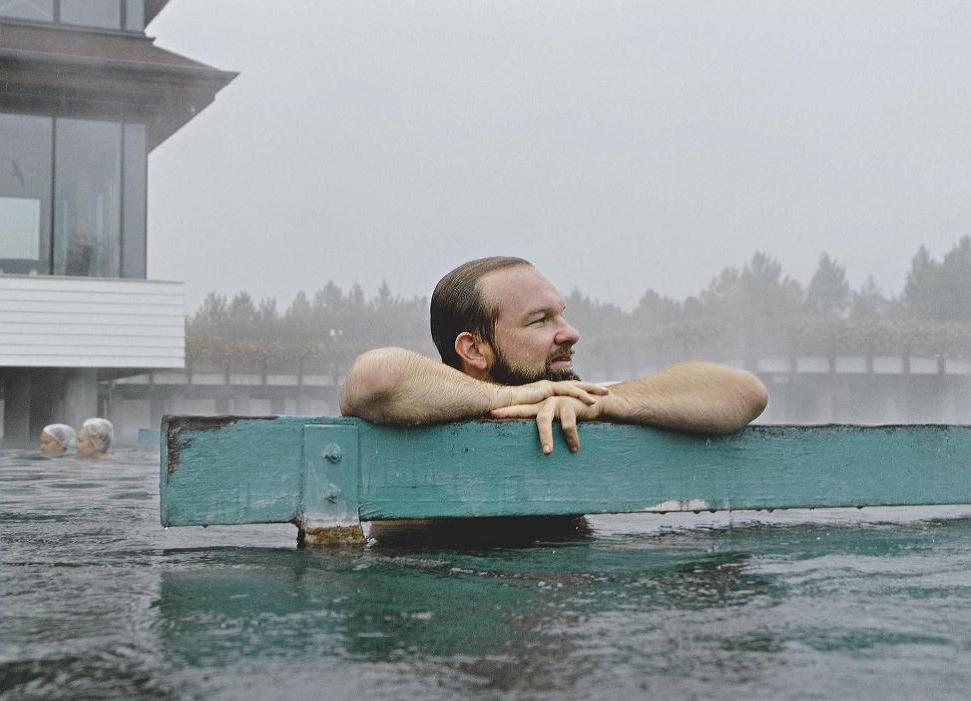 Author Mathias Becker in the thermal lake
I wait on the shore, shivering in my shorts. I'm supposed to take a dip in the lake, but not before an attendant has arrived– for safety's sake. The fumes apparently make some people feel woozy in the water. I stick my big toe in to test it – lukewarm. When my potential life saver comes into sight soon after, I slide into the lake like a fish eager to return to its element. Sedately, I swim by water lilies and on into the fairy-tale landscape. Somewhere beneath me lies the lake's geological source: Every second, 410 liters of mineral-rich water, heated naturally to a very pleasant temperature by the earth, flow from a crack inthe rock 38 meters down. That's why the water temperature can be as high as 38° C in summer and only go down to 25° C in  winter. Regular bathing in the lake is said to ease rheumatic complaints and back pain; drinking the water in healing doses reputedly aids digestive disorders.
The mists have now evaporated and the first bathers of the day are stepping into the lake. Nearly all have a brightly colored foam pool noodle around their hips. It looks silly but helps keep them afloat – a safety precaution. You're not supposed to stay in the water for more than half an hour anyway, and it's completely off limits for anyone with cardiovascular problems. I swim slowly back, then make myself comfortable on one of the sunbeds around the inner pool. The lake has made me drowsy.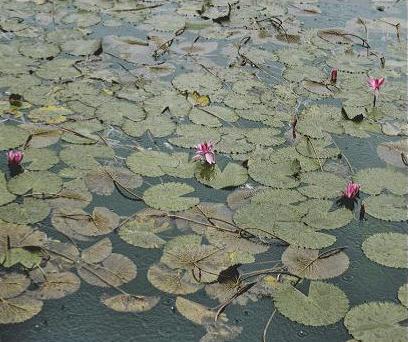 Tropical waterlilies
With a surface area of over four hectares, this thermal lake is the largest in the world suitable for bathing. There is one in New Zealand of a similar size, but at a constant temperature of 55 to 60° C, it is better suited to steaming vegetables than bathing. The Hévíz lake resort, on the other hand, is like a warm bathtub even in frosty weather, making the small town on the western shore of Lake Balaton Hungary's most popular place of pilgrimage for those with back and joint complaints, even despite its competition within Hungary. From the famous Turkish baths in Budapest to the cave baths of Miskolc (where you have to swim through tenebrous tunnels) and the thermal baths in Hajdúszoboszló (one of Europe's largest), more than 1300 thermal springs make the country on the Pannonian Plaina veritable healing hotspot.
Many a source was only discovered while drilling for oil, but the warm waters of Hévíz were already popular with the ancient Romans. Bathing culture ended soon after the fall of Rome and was only revived in the late 18th century. First came the nobles and the bourgeoisie; then, in the Communist era, it was the turn of the workers. Allegedly, it was the party big wigs who involuntarily stopped the fun: Duringone of their sauna parties, the wooden bathhouse caughtfire and burned down. Rebuilt in 1989, the bathhouse reopened when Communism ended. The old political system disappeared, but Hévíz remained and blossomed.
The town recorded over a million overnight stays in 2017, around 40 percent from Hungary, the rest from across Europe. A wellness industry with massage and beauty salons has long become established in and around the resort. Hotels have installed spas, and some flood their pools with the thermal water. To get a sense of the unbroken enthusiasm for Hévíz, I booked in for some of the traditional Hévíz treatments.
First, the mud bath. I climb down steps into a steel basin the size of a garden pool that's anchored in the lake. Just a few steps, and already the heavy mud, making a gloopy, bubblysound at every step, is up to my thighs – and up to my bellybutton when I sit down. A woman beside me reaches for the grainy, strong-smelling mass and gleefully smears it onto her face and shoulders. I bravely follow her lead. That evening, I notice that my skin feels unusually soft and I sleep better that night than I have for a very long time.
Awakening the next morning, I can't wait to get moving and am ravenously hungry. After breakfast, I have a massage appointment in the wellness and therapy area. Stefania Bajer, atherapeutic and sports masseur sporting a severe undercut, greets me with a firm handshake. In just 20 minutes, she has kneaded my muscles so expertly that I still feel the beneficial effects of it days later. I ask her whether my back is in good shape. I'm 40, I jog now and again, but spend most of my time in front of the computer. I haven't had any pain – so far. "You need to exercise more," says Bayer, "much more!"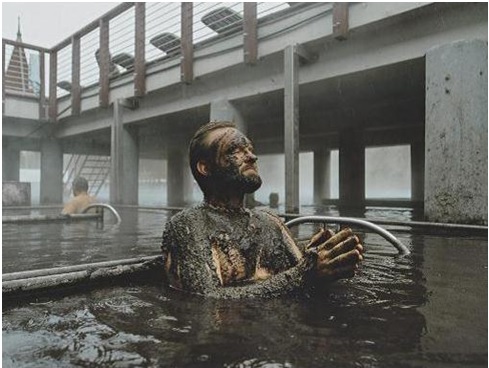 Mud wrestler: author Mathias Becker is clearly enjoying his bath
Later on, I get to see where a lack of exercise can lead at the bath house: to the underwater "stretching pool," where patients with back problems are suspended in the water, their arms or neck fastened into a kind of harness so that they cannot move. At the same time, weights attached to their hips pull their vertebraeminimally apart, relieving the discs between them. Developed in 1953 by Károly Moll, a local physician, this therapyis still used successfully on patients with disc problems. As I have no trouble with my spinal discs, I am allowed into thewater with very little ballast for a kind of trial therapy, so to speak. My arms rest on a kind of underwater gymnastics bar and I am drawn down by two three-kilo steel weights attached toa belt. My feet make no contact. "Harascho?" In Russian, Bajerasks the young man next to me whether he's all right – but he doesn't look it. My neighbor is wearing the kind of neck brace people wear after a rear-impact collision, and there are two metal bars on top of it, keeping his head above water. "Harascho …,"he breathes softly. As we leave the pool 20 minutes later, Anton Marukhin tells me that he's a 28-year-old advertising and music video producer living near Moscow, and that he suffers with back pain. "I sit a lot, maybe that's why," he says. The doctors in Russia couldn't help him so his parents sent him to Hévíz. The town's healing reputation clearly extends far beyond the borders of Hungary.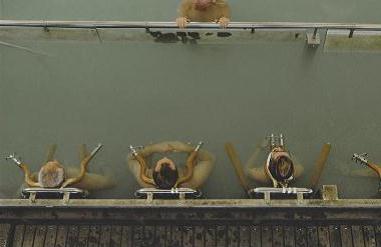 The underwater stretching bath is said to ease back problems.
One of the men aiming to help pain patients like Marukhinis Dr. Gábor Domokos, the rheumatology and physiotherapy consultant in charge of wellness and therapy at the resort. He wears white sneakers with his white coat and is 68 but looks much younger. That's not from bathing in the lake, he says (he cycles a lot and hikes in the hills around Lake Balaton), adding that too much significance should not be read into the lake water alone because no precise physiological explanation has been found for how the minerals work. "But we do know that many people who come to us with chronic pain feel better after the treatment." The secret probably lies in the package: exercise in the warm water, possibly also the water's composition,and then the peace, the long woodland walks – recently coined as "forest bathing" – physiotherapy, and a good, healthy diet. And also the sleep, I think to myself.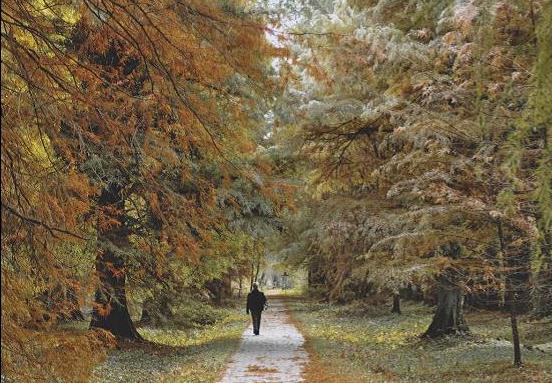 Besides intensive curative swimming physicians recommend longwoodland walks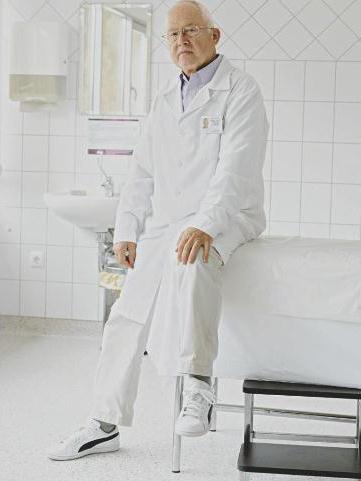 Dr. Gábor Domokosis head of wellness and therapy
Finally, I test the mud pack: I lie down on my back and am covered from neck to toe in the warm mass and then wrapped in foil and towels like a napkin dumpling. The mud weighs heavyon my body. Not a minute later and I have dozed off once again. Several days later, once I've returned home, I open my case and a sulfurous cloud rises to meet me. A most stimulating odor. I pullon my running shoes and head out the door. I've had enough sulfur to last me awhile.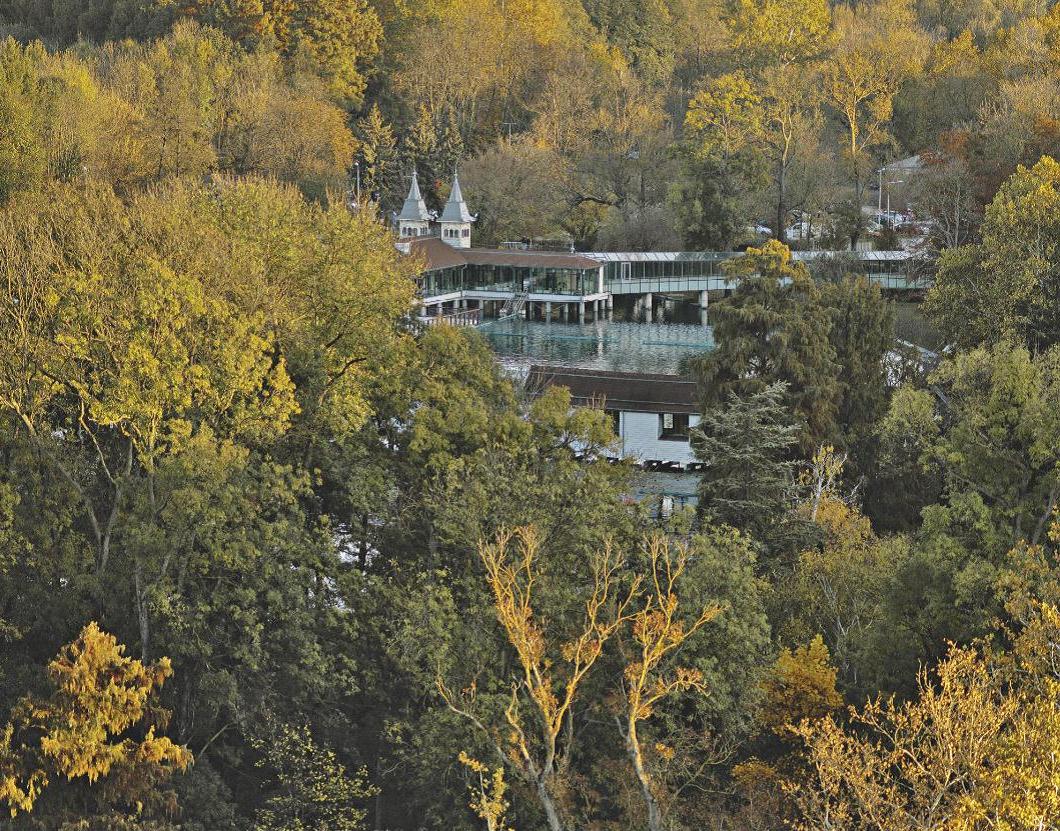 Well kept: the lake amid lush greenery
GETTING THERE
In February, Lufthansa fliesup to six times daily from Frankfurt (FRA) and up to five times daily from Munich(MUC) to Budapest (BUD).

Source:
Quelle: Lufthansa Magazin (LHM 2/19) Author: Mathias Becker | Photos: Ramon Haindl
https://magazin.lufthansa.com/de/en/travel-en/testing-the-devils-waters/