Best places - the ones we love
We are not the same: we like different things, we eat different things. Since we recommend different places to eat out.
The newest gastronomic trends in Hévíz
Innovative design, modern gastronomic trends, monthly changing menu, creativity and sophistication. These are the main features of the Brix Bistro cuisine, where even traditional dishes are served in a new form.
Bavarian atmosphere, tasty dishes, family restaurant with a puli dog. Are you looking for the best pork shank with cabbage or a real Kaiserschmarrn? Here, regulars have their own beer mug vault. Real Bavarian atmosphere, October festival in October, and the most festive place in town around Christmas. Bodry, the puli dog, welcomes you at the doorstep. Don't be afraid, step over him.
Hofbräu Restaurant - Large Car Park
A confectionery that is much more than that. It is the REGULAR HAUNT
At first glance, it may look like a pastry shop because all you can see from the terrace are the many wonderful Italian pastries and cakes but if you look a little deeper you can also find Italian hams, cheeses, freshly baked bread, coffees with fine aroma and chilled wines. If you enjoy hanging around there, Macchiato will be your regular haunt.
Macchiato Cafe & Lounge - Széchenyi Street
+1 for HardCore Foodies: for those who do not shy away from eating something phenomenal in a special restaurant
Is there even a restaurant where the menu does not exist? Yes, there is. There is also a daily selection of the best types of meat. You might find buffalo, Mangalica pig, guinea fowl or rabbit on offer, but what exactly will be the side dish or sauce? ... it will be based on the effect of the vibrations created between the fanatic foodie/owner and you. But it will certainly affect you. Those who like it ... are very fond of it. Those who do not like it ... will even leave the place with a full stomach.
Öreg Harang Borozó - Egregy

Traditional restaurants
Where the venison stew is served with potato dumplings topped with fried onion, the fish soup is made from carp and the cottage cheese noodles with pork scratchings.
Magyar Csárda
The Magyar Csárda opened its doors in 1985. They offer excellent Hungarian cuisine and live gipsy music in the evenings. The restaurant has a Hunting themed Hall, a Hungarian Hall, a Csárda Gallery and a pleasant garden. It's a real pleasure to sit on the shady, cosy terrace even in the hot season with a glass of wine. The restaurant has a wide range of dishes on the menu so everyone can find something nice, be it a real Hungarian or international dish.
Kocsi Csárda
The Kocsi Csárda was also opened in 1985 in Hévíz. The atmosphere of the place and its offer speaks for itself. In the evenings, you can enjoy the perfect Hungarian dishes, such as spit-roasted pork cutlets, stew or bean goulash while listening to live music. "A true tavern atmosphere, delicious dishes, huge portions, Hungarian flavours and fast, polite service' wrote a guest in the guest book. / Kerék Csárda / Located at the foot of Egregyi Hill, the Kerék Csárda and Dombföldi Márton Cellar has become one of the most atmospheric wine taverns in the area since its opening in 1985. The elaborately designed vaulted cellar offers a unique venue for various events. The menu offers delicious dishes to please everyone. The lovely atmosphere is enhanced by musical programmes in the romantic, candlelit garden on pleasant summer evenings.
Korona Restaurant
The Korona Restaurant offers a selection of County Zala's culinary delights. Thus, the menu includes a wide variety of interesting flavours, special dishes, delicious desserts and specialities never heard of in other parts of the country. The chef is happy to prepare seasonal and special dishes without neglecting traditional Hungarian and international flavours. They have not forgotten about light, vegetarian and children's dishes. The dishes are prepared using local fruit and vegetable ingredients, and they organize bimonthly wine dinners, themed Hungarian and barbecue dinners to entertain their guests. 
Teri Mama Vendéglője (Mama Teri's Restaurant) 
In the neighbourhood of the Roman ruin garden and the "Fradi" Church, you can also enjoy delicious meals at Mama Teri's Restaurant. Although the dishes are no longer prepared by Mama Teri, the flavours are homemade. Family atmosphere, the ambience of a typical old peasant house with embroidered tablecloths, a large earthware oven and home-style flavours and dishes await you. 
Row of the small restaurants at the large car park 
Although not on a par with quality restaurant service, many people feel nostalgic about the row of small restaurants in the Large Car Park, where you can eat freshly baked roasts, poppy seed dumplings or fried dough with garlic, which is a must in the summer. And of course, the selection of dishes also includes tripe, bean soup with pork shank and pancakes with jam or curd as a dessert.

Hévíz Farmers' Market
Fresh cheeses, smoked sausages, spices, vegetables and artisan products direct from the producer. Choose natural and healthy food.
In the spirit of the old days, the area behind the Large Car Park in Hévíz is full of stallkeepers on Tuesdays, Thursdays and Saturdays. Occasionally, visitors can meet honey producers, pickle and juice makers, cheese and vegetable sellers and enjoy authentic Transylvanian music. Fresh bread, sausages, homemade cakes and cow's milk can even be tried before buying. In addition to fine foods, craftsmen sell their wares, and you can buy earthenware pots, baskets or even handmade soaps on the spot.
The Hévíz Farmers' Market offers quality and chemical-free products for the conscious consumer. And when you shop here, you do not only support local producers, but you also opt for a healthy lifestyle.
Hévíz Farmers' Market has already been chosen by the 144 vendors and stallkeepers who offer their homemade and handicraft products to the guests from time to time.
Opening hours:
Tuesday: 7.00 – 13.00 (except January - April)
Thursday: 12.00 - 17.00
Saturday: 7.00 - 13.00
The Hévíz Farmers' Market is located in the immediate vicinity of the Large Car Park next to the Ady Endre Street. It is easily accessible by car and on foot. The bus station is a few minutes' walk from the market.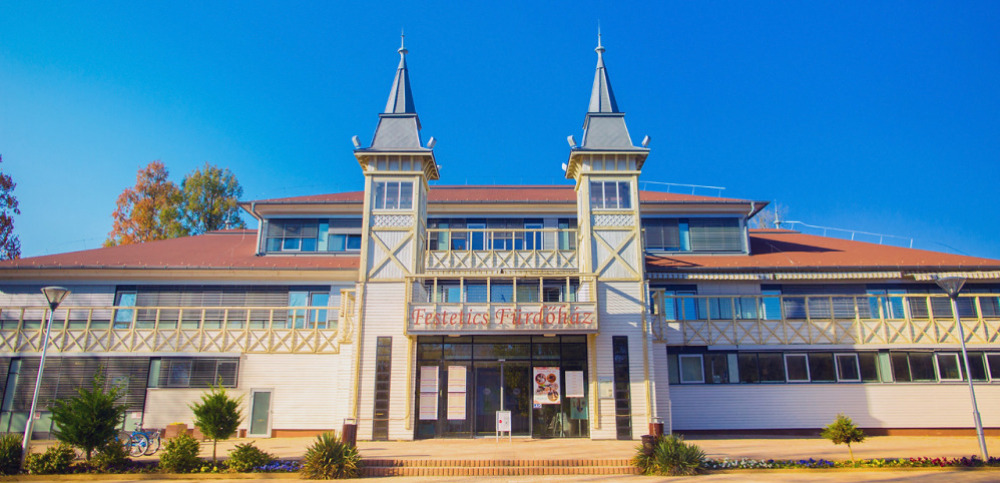 Hévíz Lake Baths opening hours and rates
Opening hours
Main Entrance &
Festetics Spa Entrance
dr. Schulhof Vilmos promenade and Ady Endre Street


Early season / Off season
27. March 2023 - 28. May 2023
4. September 2023 - 8. October 2023
Open: 9:00
Closing of the cashdesk: 17:30
End of bathing time/wellness: 18:00
Closing: 18:30


High season
29. May 2023 - 3. September 2023
Open: 8:30
Closing of the cashdesk: 18:00
End of bathing time/wellness: 18:30
Closing: 19:00


Low season
01. January 2023 - 26.March 2023
09. October 2023 - 31. March 2024
Open: 9:00
Closing of the cashdesk: 16:30
End of bathing time/wellness: 17:00
Closing: 17:30


Holiday time in December
Closing time on 24.12.2023 is at 14:00; on 31.12.2023 at 16:00. Opening time is at 11:00 on 01.01.2024.
Summer Entrance
Deák Ferenc Square



 Open


Opernin: 8:30
Closing of the cashdesk: 18:00
Closing: 19:00


Hévíz Lake Bath reserve the right to change the opening hours and prices.
Hévíz Lake Bath Telephone:
+36 83 342 830
Hévíz Lake Bath and Festetics Bathhouse price list
Valid from 01. April 2023. until withdrawn

3-hour tickets

3-hour ticket
4 500 Ft
3-hour senior ticket / over 60 years old
4 000 Ft
3-hour student ticket / over 14 years old
4 000 Ft
3-hour children ticket / between 6 and 14 years old
2 400 Ft
3-hour group ticket / up to 20 people

4 000 Ft / p

Daily tickets

Daily ticket

7 500 Ft
Daily senior ticket / over 60 years old

7 000 Ft
Daily student ticket

7 000 Ft
Daily children ticket / For children between 6 -14 years of age. Admission for children under 6 is free.

3 600 Ft

Combined family daily tickets

Minimum 3 person, if at least 1 person is a child.


Adult
7 000 Ft / p
Student (over 14)
Senior (over 60)
6 000 Ft / p
Children (between 6-14)
3 600 Ft / p

Additional tickets

+ 1 hour extension (for the 3-hour tickets)

1 800 Ft
+ upgrading to daily ticket (for the 3-hour tickets)

3 600 Ft
+ additional wellness ticket (for all tickets)

3 300 Ft
Time limit fee (For exceeding the time limit, for every 30 minutes started.)

1 000 Ft

Lake Passes


10-hour Lake Pass - Valid on the day of purchase + 15 calendar days.

13 000 Ft
+ 2 000 Ft deposit
20-hour Lake Pass - Valid on the day of purchase + 25 calendar days.
23 000 Ft
+ 2 000 Ft deposit

Other ticket types


Discounted Ticket before Closing (available 2 hours before the end of bathing time)

3 600 Ft
Visitor's Ticket (bathing is not included, max. 30 min)

1 900 Ft + 3 000 Ft deposit
Luggage room (seasonal)
300 Ft / package
Swim-rig rental (daily fee)

700 Ft + 2 000 Ft deposit
Single-day tickets: Usable on the day of purchase only. Entitles the bearer to one-time entry. An additional charge will be levied if the allotted time limit is exceeded. Additional time extension cannot be purchased after the time limit has expired.
Lake passes: Deposits are refundable within 5 days of expiery. Refunds are payable in cash only, each day before the end of bathing time. Passes eintitle the bearer to enter the premises on two occasions per day. Following the bearer's first exit, a 15-minute wait period is required before return entry is permitted. Upon exiting the premises, locker number assignments are automatically cleared, after which we can accept no liability for contents. An additional charge will be levied if the alloted time limit is exceeded.
General information
Valid from 09.05.2020 until withdrawal.
The depth of the medicinal lake is 2-38 meters.
Free use of changing rooms (included in the entrance fee)
A sauna sheet is provided free of charge if you buy a ticket that entitles you to the use of the wellness facilities.
The services of the wellness area are only available to persons over 12 years of age.
Children under 6 years of age are admitted free of charge.
The deposit is refundable within 72 hours of expiry.
Daily tickets are valid only on the day of purchase.
All tickets are valid for one entry a day only.
We are not able to refund the price of the purchased tickets.
We reserve the right to change prices and opening hours.
An ATM is available during the opening hours in the building accessed from the Schulhof Promenade.
You can have more information about our special offers at the cash desks or on our website.
Hévíz Lake Baths phone number: 06 83 342 830