The gentle and smothering touch of the water, the feeling of floating, the swinging lotus flowers, the odour of the healing water and the green leafy crown of the surrounding trees all have a calming effect on the nervous system, and evoke the psychological feeling of healing.

To experience when water drops as tiny little balls give a gentle massage to the body is unique throughout the whole world.
The medicinal lake of Hévíz not only provides the feeling of bathing, but also means the basis of traditional medical treatments and healing wellness treatments.

Bath treatment constitutes the basis of the medical and healing treatment of Lake Hévíz, but it is also important to emphasise such unique medical treatments as mud-pack, the famous weight bath, different types of medical massage and drinking cure.

The healing treasures of the thermal water are complemented by the medical effects provided by the natural environment. It means that the green trees around the lake and the released steam which extends in a cap-like shape over the lake create a joint effect.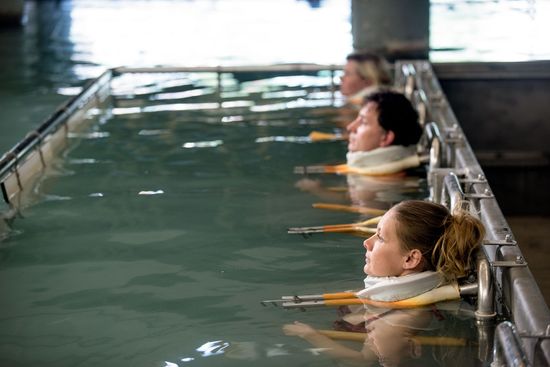 The recommended duration of medical treatments in Hévíz is 2 weeks, but our guests may stay for shorter or longer treatments as well. A traditional one or more-week medical treatment usually starts with a thorough examination by a specialist, mainly a rheumatologist doctor, and is followed by special treatments, which are carried out by expert professionals.

The therapy treatment of Hévíz includes mechano-, balneo- and physiotherapy treatments, the joint application of which have a combined effect.

The manager and operator of the thermal lake is Hévíz Thermal Lake and Saint Andrew Hospital for Rheumatic Diseases public company, which offers its guests a wide range of services. The treatments offered in Hévíz not only have an immediate healing effect, but prevent the recurrence of pain for several months ahead.

Indications
Contraindications