While I'm still catching my breath, my soul has already arrived. Janett and I run across the wooden bridge from the parking lot, trying to catch the last bit of an immensely beautiful sunset. The flaring red, and rather huge disk of the sun, is just dipping beyond the horizon to the West. A feeling of stillness floods through us, much like the little waves gently lapping against the lake shore in front of us. I take a look at Janett. My dear friend is just the same: After both of us have taken the last photographs, there is nothing left but to enjoy the peace of the moment. …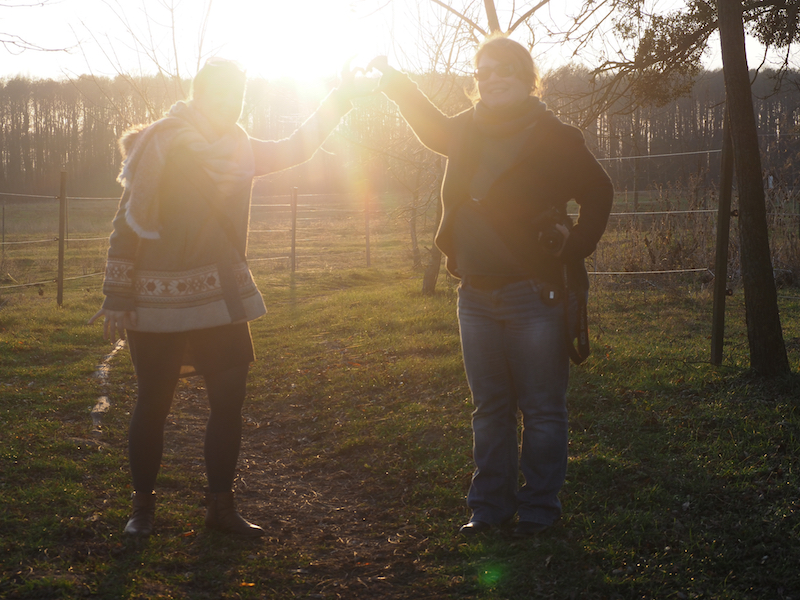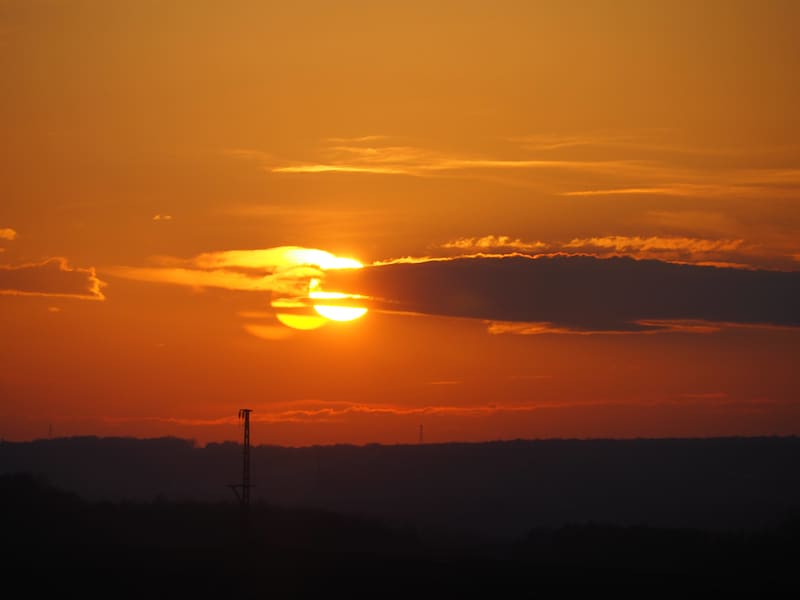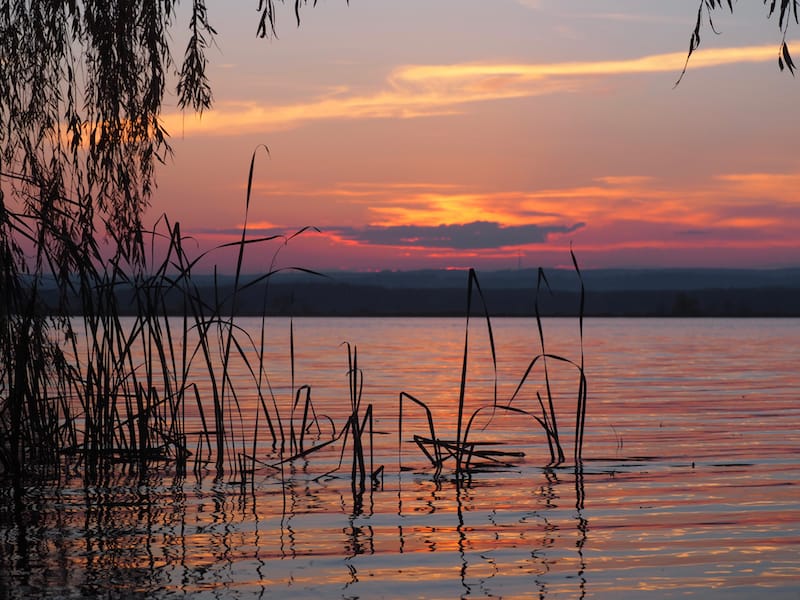 Talking about Hévíz is like talking about the mighty stage of nature that surrounds it. A place where the water buffalo roams. Where the famous, nearby Balaton lake has closed for winter, pulling another lake centre stage: The steaming hot lake of Hévíz.
Yes, steam rises as we approach the spa town of Hévíz. "So where exactly are you headed to in Hungary?", my friend Gaby asks me ahead of my trip. "Oh, Hévíz", she sighs, visibly pleased: "What a beautiful spot. Ursula and I have been there many times … You will like it for sure!"
Travelling to Hévíz from Vienna, about a three hour trip southeast of the Austrian capital all the way into Western Hungary, already exudes a feeling of relaxation. There are no fast lanes or highways in this part of the country, so all you have to do is sit back, relax and enjoy the landscape around you. "You are lucky", our German driver Volker smiles: "I go to Hévíz at least once a year. So glad we all decided to go on the same dates!" Janett and I have found Volker through a rideshare platform called "BlaBlaCars", popular in Germany as a perfect alternative to trains, buses or taking your own car. Nice.
Hévíz, then. As we arrive by the lake, the setting sun paints the rising pearls of steam with the last bits of colours for the day. "But what the … is this!?", I gasp, suddenly torn from my slumber in the backseat of Volker's car.
In front of me, dozens of people are swimming in a natural lake obviously pleasant to bath in, despite the outside temperature being close to zero degrees. Mother Nature herself provides the energy for heating the healing sulphur waters.
Hévíz, what a discovery. In my memory, I can still feel the healing waters giving my entire skin a healthy, nutritious hug …
… every evening, Janett and I are off for an hour or two of spa-stillness at the Kolping family hotel in Hévíz, perfect for both the kids and families as well as the odd "tired-crashing travel blogger" looking to unwind. The entire accommodation area is made up of single bungalows with reed roofs, adding to a familiar feeling of comfort from across the border, in the Austrian Burgenland province. And everyone out here speaks German! For a multi linguist like myself, it is almost a shame I speak no Hungarian whatsoever in return, but hey: Hospitality, appreciation of nature, and the good food & drinks we find here with our new Hungarian friends also speak a language of their own. Check this out.
Around Hévíz, you will find prairie buffalos next to imperial castles and bustling farmers' markets. Quite the Hungarian heritage & charm!
I love visiting (farmers') markets. All around the world, they always teach you about an important aspect of the local cultural history. What do people eat? What do they sell? Which "language do they speak"? How is the atmosphere? What is being offered? Who strikes up a bargain? And how? Janett and I decide to take on a feast of rather delicious "Kürtöskálacs"; a kind of sugar-bread-roll that goes perfectly with two glasses of hot, mulled wine. Beautiful second breakfast at Hévíz market.
Just a little later, our local insider Krisztina drives us over into neighbouring Keszthely, famous for its imperial palace as well as being right by the shore line of Lake Balaton. Both places are worth returning to in the spring or summer, as we imagine all the green spaces full of flowers, happy vacationists in T-Shirts and us in summer dresses ..! At the same time, it is rather nice walking around without the crowds now ..
The following is a list of travel tips on where to go once you are here: