Wellness ABC - What does it mean?
Letter J - L
Jacuzzi
The water-jets directed to the particular points of the body and the massage promotes full relaxation. Due to the intensified blood circulation your body will get more oxygen so you'll feel fit. The pores of skin get larger and due to the intensified blood circulation your skin will be purified from toxins. As a result, the skin will be firmer and more elastic.
Jogging
Jogging combines all the benefits of walking; it conditions the heart, improves muscle tone and strength, relieves stress, and can help with a variety of health problems, such as osteoporosis, heart disease and arthritis.
Kneipp steps
You tread cold water stepping on pebbles placed on the bottom of a tub while walking around. The legs are lifted out of the tub at every step so that the cold water and the warm air will provide the contrasting bath character. The pebbles gently massage the reflex zones of the soles initiating a certain regulatory process.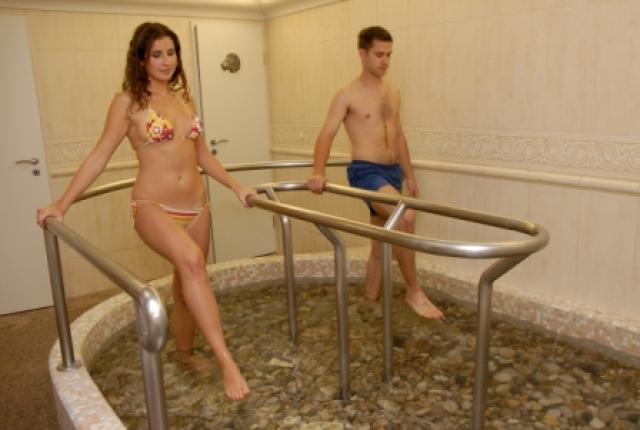 Laconium
It is a cool version of the Finnish sauna. The temperature may not exceed 55 C° and the degree of humidity is insignificant. It enhances congestion and supports the immune system.
Lomi Lomi Nui
This traditional Polynesian massage is one of the most pampering therapies of the Hawaiian kahunas. The massage starts by rubbing the body with "ti" leaves, and the body is heated with hot stones. Then while the lomi-lomi masseur is dancing with traditional dance-steps, imitating the steps of a frigate bird, around the nearly naked body of the patient, lying on the massage bench, he is giving the treatment, which means soft smoothing and kneading motions of the pad of his/her forearm and palm. Finally, he/she completes the massage with a ritual ablution of the body.
Lymphatic massage
This is a special kind of massage that makes lymph fluid drain away. The lymph flow may be stimulated along the lymph vessel by smoothing with gentle pressure, thus the tissues may be purified from the roughage. As a result the skin becomes cleaner, better supplied with blood and firmer. This massage activates the immune system, promotes the recovery of the cells and tissues and reduces the susceptibility to inflammation. It is highly recommended as an additional treatment to detox cures.
More about wellnes? Here!