Are you looking for novel and interesting place for a weekend getaway or you're wondering where to go on vacation this year? Are you looking for a place for relax, swimming, but also for cycling and hiking trips? An interesting tip is definitely town Hévíz.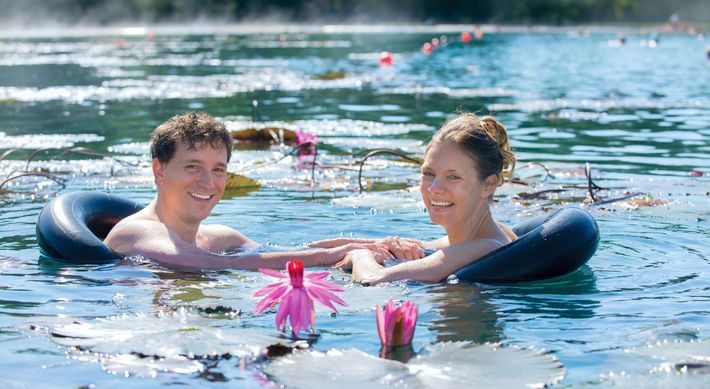 Bathing in natural thermal lake
Above all Hévíz is unique thanks its unique medicinal thermal lake, which is the largest biologically active natural thermal lake in the world and swimming in it due to its temperature, in summer reaching up to 38 ° C, is very pleasant diversification and attractions of every stay at any time regardless of the weather. But with this the list of local attractions and activities does not end.
Whether you choose Hévíz for short weekend getaway or for a longer stay with or without family, you should definitely make time for entertainment, as well as for walks or tours which this unique place offers.
Discover Sümeg, Tátice, Szigliget
Walks to the nature do not require training or sports equipment and with the orientation will help you the hiking trail. In Hévíz, especially around the lake you can see during a walk a variety of exotic, evergreen trees. Anyone stops with admiration in front of the colourful scenery of blooming lake roses covering the surface of the lake. The flowering period of this strictly protected plants starts in early summer and lasts until the end of November. Among the nearby tourist attractions belong the ruins of castles in Sümeg and Szigliget Tatić, beautiful is also the Festetics Castle in Keszthely.
Enjoy the lake from the air or on bike
If you are the fan of cycling tourism, then you can pass your trips within the branched network of bike paths. Never mind if you did not want to take bikes with, it is possible to lend them not only in Héviz, but also in its surroundings. Visit habitation on the banks of the Balaton highlands, beautiful natural nooks, volcanic peaks as well as valleys hidden behind the coastal mountain ridges, or the unique natural treasures and the water world of the West and Little Lake Balaton.
If you're the adventurous tourist you can try during your stay at Hévíz some special programs suitable for all ages, such as a hot-air balloon ride on a Segway or electric bike, play golf or you can also explore the local caves.
If you come to Hévíz just to relax, then you should know that in addition to bathing in thermal lake the local spa treatments are also constituted by bathing in thermal pools in the spa and wellness hotels, and are complemented by other medical therapies such as eg. massages, body wraps, as well as drinking cure etc. Wellnes and healthy lovers will be also satisfied in Hévíz. Summer festival lovers can also enjoy themselves. All this accompanied with a local specialities and delicious wines.