What else could be the main message to everyone this year:
LIVE ACTIVELY! STAY FIT! STAY HEALTHY!
And the perfect location is Hévíz, where health, health preservation, recreation, and the healing and energies provided by nature have been a part of everyday life for hundreds of years.
Most of the shops, restaurants and service providers have already been back to business, the majority of the accommodation establishments have already been open, and some accommodation facilities will welcome guests from the second half of June. Most of the hotels and guesthouses have cosy gardens, parks, outdoor and indoor pools, wellness, and beauty services to make your stay unforgettable. Today, there is nothing to prevent you from taking a perfect summer vacation in the usual quality in Hévíz.
SWIMMING AMONG WATER-LILIES IN THE WORLD'S LARGEST HOT WATER LAKE
If you are in Hévíz, you must see Lake Hévíz. And, if it is Lake Hévíz, you can experience the following: bathing, crystal clear hot medicinal water, black mud, waterlilies, small fish, water birds. The rustle of bald cypresses, fresh air and the experience of bathing and relaxing in the park on any day of the year.
Surrounded by prestigious, historic buildings, Lake Hévíz is a unique and enticing experience again and again for anyone who has, even once, found pleasure in swimming in 32°C water on a beautiful early-autumn day. In summer, all ages can be found on the beach from 0 to 110 years old. Although the lake is not a water park with giant slides that is why it is different. It is a small wonder of nature that cannot be imitated and compared to other baths.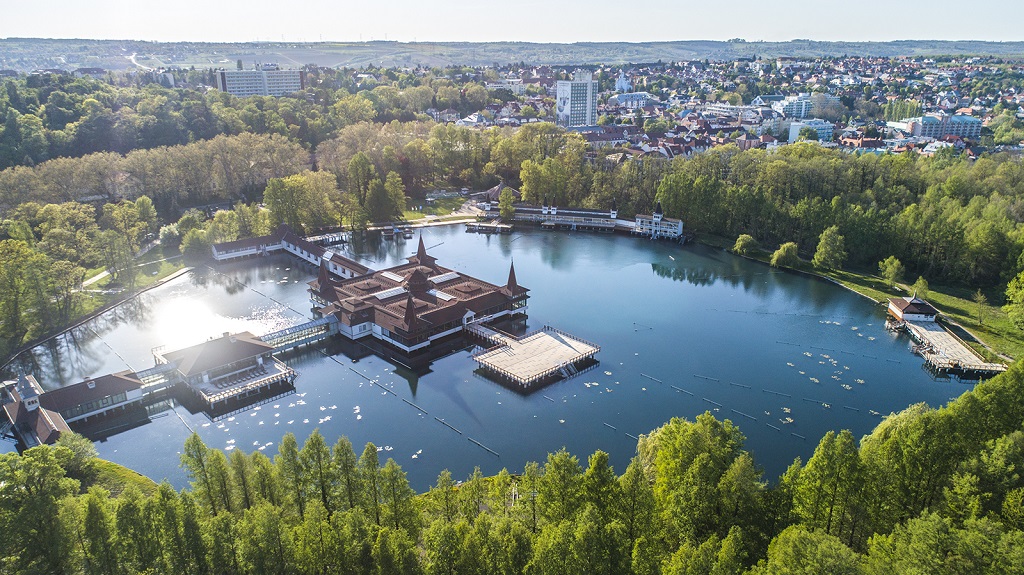 PARKS, WOODS, PROMENADES, GREEN! GREEN! GREEN! EVERYWHERE!
Cycle, walk, hike, move freely! In the protective forests surrounding the lake, on the banks of the Hévíz stream or even on the gently sloping hiking trails of the Keszthely Hills, there are many opportunities to explore the area in the fresh air, listening to the songs of birds. Whether you are planning a light stroll or a more serious hike, you will be able to choose from different routes. The Tourinform Office in Hévíz helps the lovers of nature with free hiking and cycling maps, as well as renting bicycles and Nordic walking poles. Besides, thanks to Bakonyerdő (the company looking after the woods), well-maintained routes, rest areas, educational trails, and lookout towers await families in the Keszthely Hills. The latter ones, by the way, offer a fantastic view of Lake Balaton.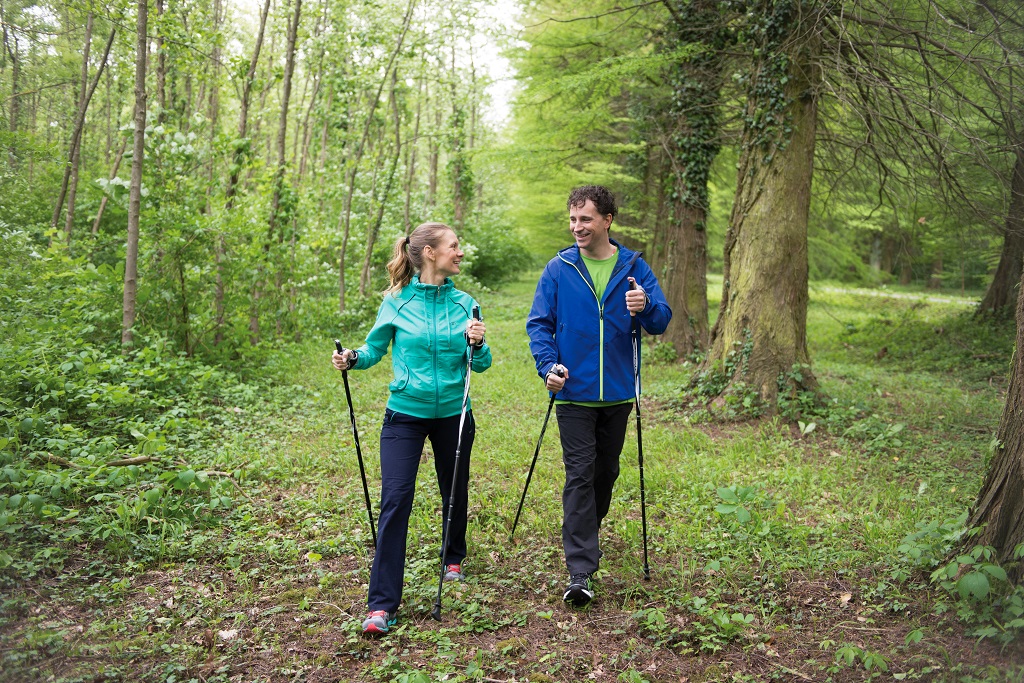 MEDIEVAL CASTLE RUINS FROM SMALL ONES TO LARGER ONES OFFERING A FULL-DAY EXPERIENCE
If you have already been told about hills, mountains, forests, and great views… starting from Hévíz, many ruins of castles can be discovered during a day trip. The nearest is the ruins of Rezi Castle, located only 10 km away, which is an easy walk from Hévíz. A little further away, on Tátika Hill, there are also the remains of a castle in the middle of the forest. If you set off in the direction of Lake Balaton, you will reach Szigliget in 30 minutes, where not only the ruins of a castle but a complex, interactive medieval knight's castle offer a great program for families. What is more, the castle has been renovated in recent months, so it will reopen on 20th June. You can also take a day trip to Sümeg or Nagyvázsony or you can even climb the ruins of Csobánc Castle. If you are looking for the nearest small castle ruin, you will find it on the Main Square (Fő tér) in Keszthely, in the Castle Garden next to the Church of Our Lady of Hungary.

ACTIVE ADVENTURES FOR ADRENALINE ADDICTS
If you look for active experiences outdoors, and besides that, come to Hévíz with children, you do not have to go far for a little adventure. Children and adults can test their courage on the ropes course in the Tavirózsa Adventure Park located on the confines of Hévíz. Right next to it, the enthusiasts of racing can compete on a go-kart track. The Dino and Adventure Park in Rezi offers moments of forgetfulness for families with small children and dinosaur fans, while older kids can spend a fun day in the Zobori Adventure Park in Zalaszabar. Those who are over 16 can get black-and-blue marks and memories for life in a paintball fight in Gyenesdiás, or learn to water-ski on the beach of Vonyarcvashegy.
Those who aim high can do so by a hot-air balloon, a gyrocopter, a microlighter or can enjoy a pleasure flight, while the lovers of the depth can creep and crawl with a tour guide in the caves of the Keszthely Hills.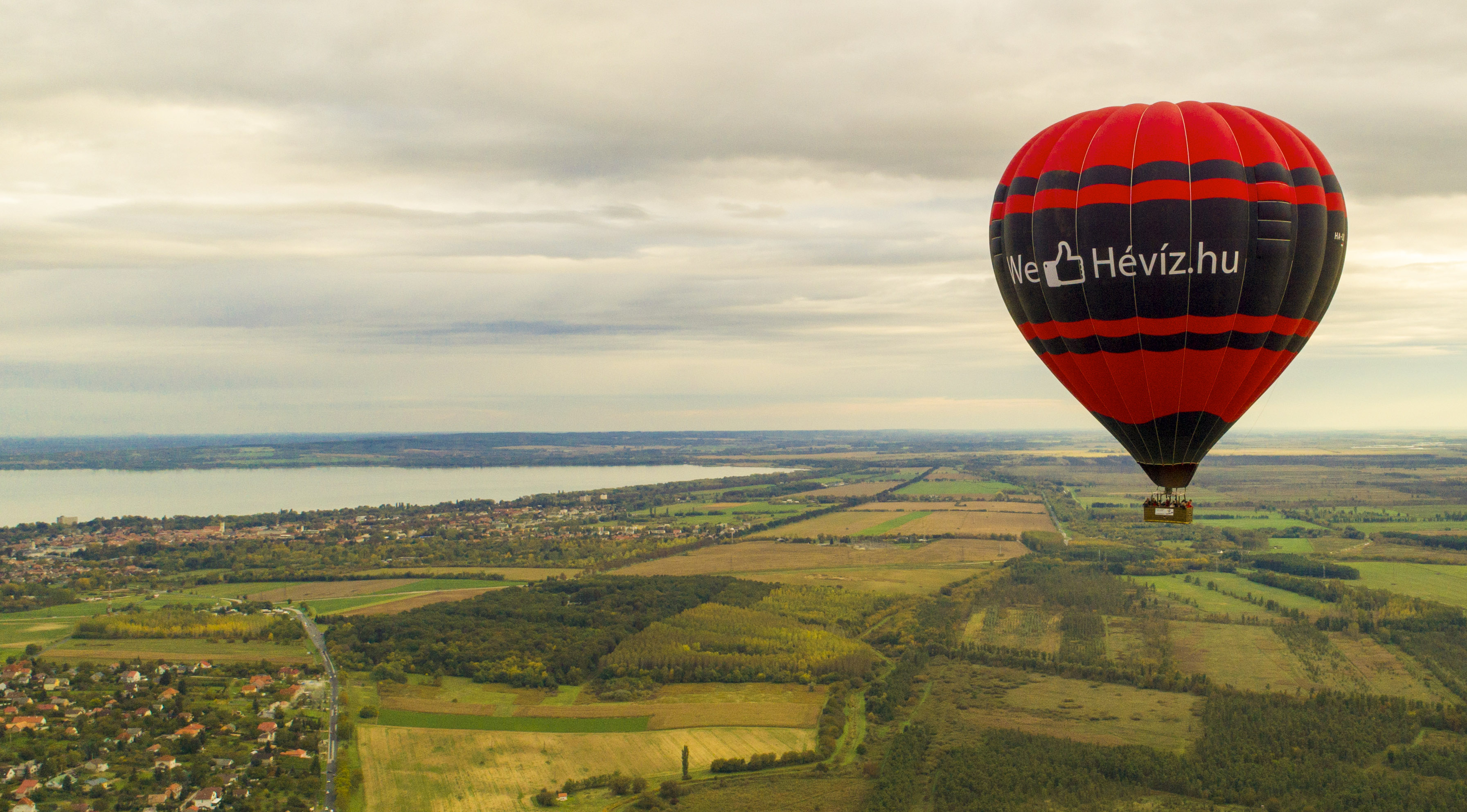 BEFORE OR AFTER THE ADVENTURES YOU HAVE TO EAT SOMETHING DELICIOUS AND FILLING
Whether you like international cuisine or traditional Hungarian dishes, high-level gastronomy or the basic flavours of street food, you can choose from more than 50 restaurants in Hévíz, all of which are open throughout the year. The offer is variegated by the Hévíz and Gyenesdiás Farmers' Markets, where three values - local, artisan, and healthy - are added into each delicious product with all heart and soul. And if you want to experience a breezy wine tasting, the row of taverns in Egregy is an unmissable place where the fine wines of County Zala are combined with the view of the Zala landscape.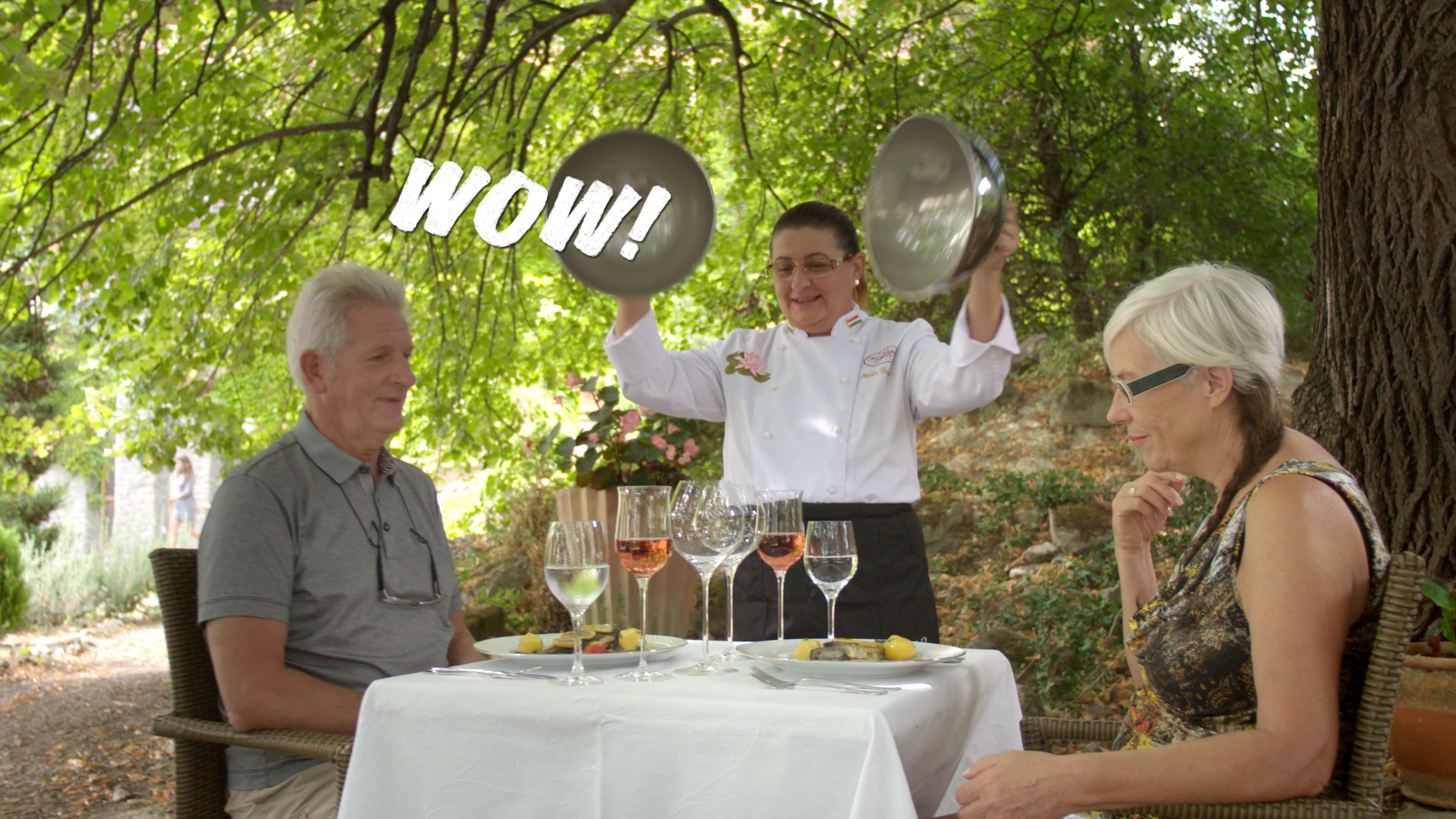 WHAT WE DO NOT WRITE ABOUT IN THIS ARTICLE
Roman ruins, medieval churches, the stupa, water mill. Beaches, guided programs, guided sightseeing tours, boat trips, bird banding, Csillagvár (Star castle), museums in Keszthely, the mansion, model railway exhibition. Sports competitions, night tours, camps for children. Places to visit in the Balaton Uplands National Park, Uncle Matula's hut, the unique flora and fauna of Kis-Balaton (Little Balaton), basalt columns.

There are so many experiences that await you in all seasons whether you come alone, with your partner or family. Programs not only in nice weather during the summer holiday!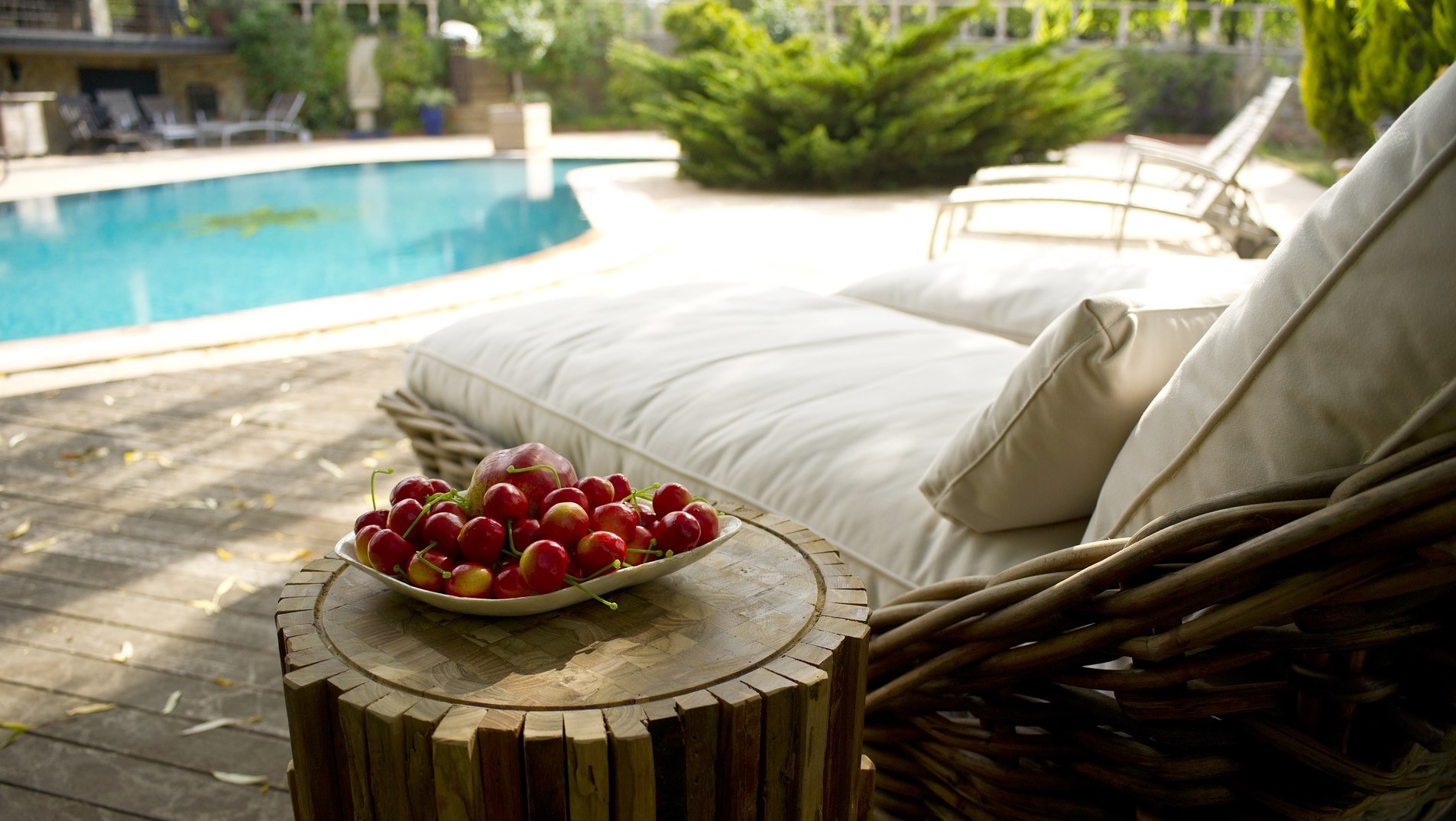 "I like to come to Hévíz because I've felt, even the first time, that life in Hévíz is slower but not boring. The streets are not crowded but they are by no means extinct. People are happier, more relaxed, there is time for everything and there are a lot of opportunities, while everything is near at hand that I need in today's business atmosphere. Quality services, lots of green, fresh air, silence. Here, I only pick up the phone when I want to." B. Kristóf (Budapest, 2019)