In a special tub the artificially generated air bubbles cause turbulent flow, which massages the entire body surface. The water flow gives a nice sensation to patient, increases blood circulation and has a stimulating effect through the skin. It has weaker, lighter massaging power than the underwater jet massage.
There are no counter-indications for the hydroxeur bath; therefore it can be used without physician supervision.
Duration of the treatment: approx. 10 to 20 minutes.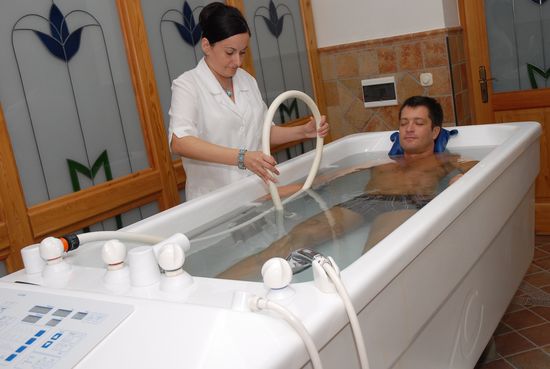 Other bath types:
Carbonated bath
Four-section galvanic bath
Electric bath
Alternating bath
Other hydrotherapy treatments:
Weight bath
Underwater jet massage
Thermotherapy
Alternating bath
Kneipp foot bath
Hydro galvanic treatment
Interesting facts
Hydroxeur bath is one of the modern versions of underwater massage. Increases blood circulation, loosens the muscles; it is applied not only in healing, but also during wellness treatments. It has a stress releasing effect if combined with aroma- or light therapy.