CardioMobile has arrived in Hévíz with its unique new-generation 2015 cardiovascular screening program. The offered professional cardiovascular screening examinations are available for local people as well as for visitors who come to the spa town to heal and to relax.
Pay attention: cardiovascular disease is still the number one killer all over the world. In Europe, cardiovascular diseases are responsible for 52 % of total mortality in women and 42 % in men. Over the past decades, there has been an enormous global attention to prevent cardiovascular diseases in order to improve mortality statistics in the developed countries of Western Europe. For example, Finland has introduced effective screening and prevention programs and experienced a dramatic, 70% decrease in cardiovascular mortality during the past 30 years.
However, prevention is still not considered as an important part of life by many.  In everyday life, we spend a lot of time and money on our homes, cars, hobbies, but we do not pay enough attention to preserve our health. We only realize this, when the disease develops and often results in irreversible health damage.
Cardiovascular diseases develop silently during decades, therefore the health risk assessment is important already at an early age. The efficacy of prevention is the highest at younger ages, may be able to prevent more than 90% of events at the age of 35-45. Therefore, from the age of 30 it is advisable to participate in a certified cardiovascular screening program once a year.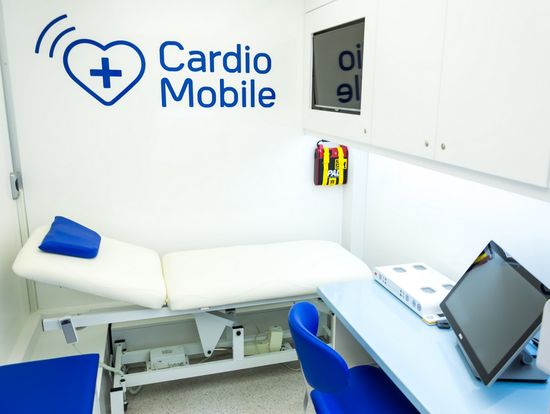 CardioMobile's comprehensive screening examinations are based on the current guidelines of the European Society of Cardiology and on the professional recommendations of the Hungarian Society of Cardiology. Importantly, CardioMobile screening program is the only dedicated screening program endorsed by the Hungarian Society of Cardiology.
The main aim of the CardioMobile screening program is to offer high-quality screening in an exclusive environment as part of your relaxing holiday: prearranged program without waiting and rush, just next door to your hotel. Measurements are performed reliable, clinically validated screening devices according to the latest developments in medical technology. Local partners are there to help you with making an appointment.
Prepare yourself and do something for a healthier and longer life.
For screening locations and available time schedules, please visit our website: www.cardiomobile.eu
Contact us for further information: info@cardiomobile.eu