Dear guests!
The therapy centre of Festetics Day Spa is closed from 8 March 2021 until further notice! The date of reopening will depend on further decisions made by the Hungarian Government.

We hope to see you soon, stay safe!
The Bath has opened its Wellness and Therapy Centre with the prevention in focus. The new complex ensures also for the younger generation a wide range of recreational and wellness services. According to a four-star hotel standard, in the new three floored building the following services are waiting for the guest: wellness department (sauna, steam-bath, ice-bath, salt-chamber, pools), modern catering place and therapy section (hydrotherapy, massage, beauty saloon, mud-packing, movement therapy.)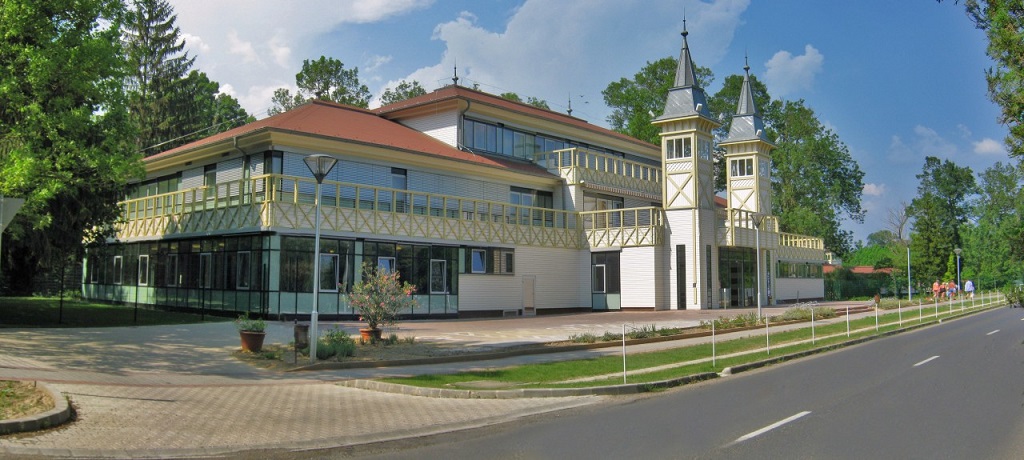 Opening hours
The prices of the Festetics Day Spa you can find here!
| | | | | | |
| --- | --- | --- | --- | --- | --- |
|   | Opening | Closing of the cash-desk | End of bathing time (Lake) | End of wellness time | Bath is closed at |
| Festetics Day Spa | - | - | - | - | - |
In the Festetics Day Spa you can buy the same entrance tickets an at the cash desk of the main entrance of the Lake Bath and the Deák square summer entrance.
In the Festetics Day Spa you can find the following pools, and saunas
| | | | |
| --- | --- | --- | --- |
| Name | Surface (m2) | Capacity | Temperature (°C) |
| Jacuzzi (2 pcs.) | 18 | 15 | 28-32 |
| Finnish sauna | 7,5 | 15 | 92 |
| Infrared sauna | 1,5 | 4 | 45 |
| Steambath | 3 | 5 | 40 |
| Salt cave | 1,5 / 8 |  2 and 12 | 24 |
| Ice cave | 6 | 4 | 4 |
Saunaprograms:
11:00 Good morning infusion
16:00 Infusion with beer
Prices of the services in Festetics Day Spa
Medical wellness
| Name | Time | Price |
| --- | --- | --- |
| Healt-condition-check (including 1 controll) | 15 min. | 8 500 HUF |
| from the second controllexamination | 15 min. | 4 500 HUF |
| Mud therapy (more than 4 regions, available only on medical advice) | 20 min. | 9 800 HUF |
| Segmental Mud therapy (max. 4 regions) (With the filing of the Patient Consent Form.) | 20 min. | 6 000 HUF |
| Underwater-stretching (Solely on the doctor's recommendation.) | 20 min. | 6 000 HUF |
| Physiotherapy treatment (Solely on the doctor's recommendation.) | 25 min. | 7 500 HUF |
| Inversion table with therapist consultation | 20 min. | 5 700 HUF |
Disease-specific massages
| Name | Time | Price |
| --- | --- | --- |
| Massage therapy for hip dislocation (With the filing of the Patient Consent Form.) | 40 min. | 8 900 HUF |
| Massage therapy for coxarthritis (With the filing of the Patient Consent Form.) | 40 min. | 8 900 HUF |
| Massage therapy for TEP (totalendoprosthesis) (With the filing of the Patient Consent Form.) | 40 min. | 8 900 HUF |
| Massage therapy for Morbus Bechterew (With the filing of the Patient Consent Form.) | 40 min. | 8 900 HUF |
Check-in and appointment:
Lake Bath: (+36) 83 342 830
Festetics Day Spa: (+36) 83 501 700 (528. m.)
E-mail: toterapia@spaheviz.hu