Do miasta jest łatwo dojechać, bez względu na to, jaki środek lokomocji wybierzemy.
Autem osobowym z Budapesztu autostradą M7, dotrze się do Hévíz wygodną i szybką trasą w ciągu 2 godzin. Gdyby jednak ktoś chciałby się trochę po drodze rozejrzeć, to wtedy zjeżdżając z autostrady, jadąc wzdłuż główną drogą nr. 71, po północnej stronie Balatonu, znajdzie wiele licznych atrakcji. Z kierunku Győr i Sopron droga główna nr. 84 jest najlepszym wyborem, Od strony Pécs warto wybrać główną drogę nr. 66 aż do południowego brzegu Balatonu.
Do Hévíz można dojechać również autobusami dalekobieżnymi z większych miast prowincjonalnych i oczywiście z Budapesztu. Pociągiem można dojechać do dworca w Keszthely, z Keszthely autobusem podmiejskim jeszcze 15 minut do Hévíz. Dworzec autobusowy znajduje się w pobliżu dworca kolejowego, więc przesiadka będzie wygodna. Zaplanuj swoją podróż autem tutaj!
Jeśli wolisz pewną i wygodną podróż, poszukaj transfer BusExpress!
BusExpress przewozi pasażerów z lotnisk, z dworców, lub z podanego adresu do Hévíz i okolic. Na naszej stronie internetowej możesz wygodnie i szybko zarezerwować miejsca lub możesz wyszukać więcej ofert.
Przybywając do Hévíz, dowiedz się, jakie są aktualne wydarzenia w miejscowym biurze Tourinform. Otrzymasz tu informacje o aktualnych programach, mapki, a także, jeśli zajdzie taka konieczność, aktualne rozkłady jazdy.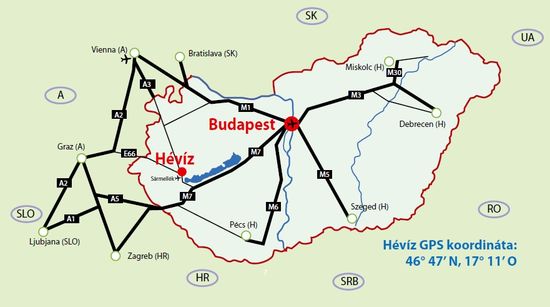 In the air
Flights to Hévíz-Balaton Airport
Weekly direct flights from Germany from:
Berlin, Hamburg, Frankfurt, Düsseldort, Erfurt, Leipzig
More information: www.mein-weg-nach-ungarn.de
More information: www.hevizairport.com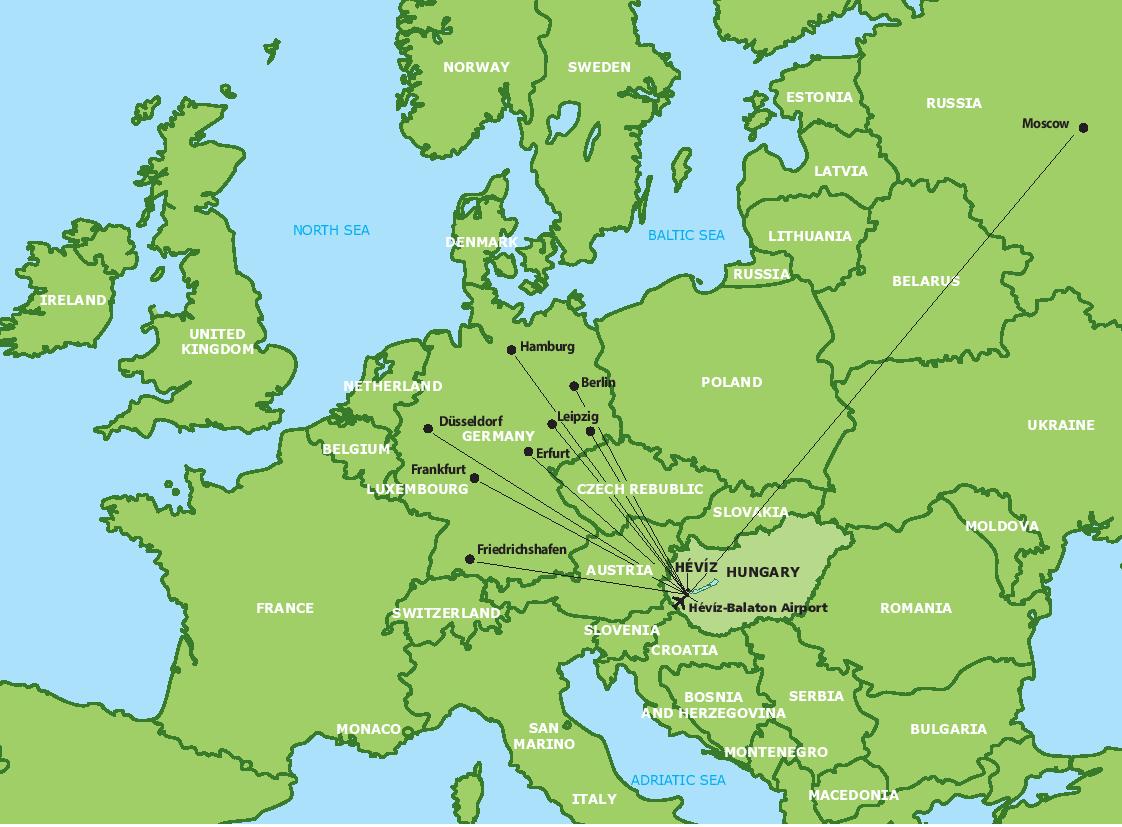 Public transport
Of course you can use the public vechiles to reach the city.
Bus schedule here!
Train schedule here!
After arriving in Hévíz you can get information about the current events at the Tourinform Office located in the town centre. Here you can ask for maps, program offers as well as you can have information on timetables.