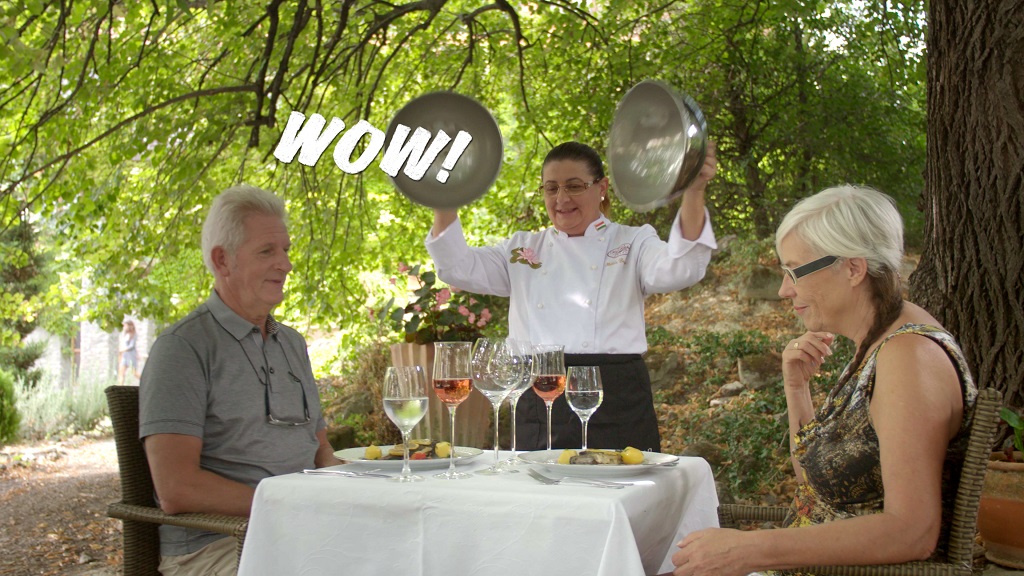 We want to give our kind guest some tips for special tasted dishes. The most of the menus were inspired by the wine of Hévíz 2013.
The dishes are various and associated with a healthy lifestyle because they are rich in vegetables.
Try them!
Roasted chicken breast fillet flambéed with white wine, vegetables and flavoury wild mushrooms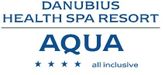 Pápai Lajos Master chef's recommendation,
Danubius Health Spa Resort Aqua
Ingredients (4 servings):
0,6 kilo chicken breast fillet
0,15 kilo celery
0,15 kilo leek
0,15 kilo courgette
0,15 kilo colourful peppers
0,3 kilo mixed mushrooms: porcini mushroom, Scotch bonnet mushroom, champignon, chanterelle
2 bunches of parsley
0,1 litre olive oil
white wine, wine of Hévíz, Bussay ESKÜVÉ 2011
0,1 litre cream
salt, white pepper, nutmeg, garlic – according to taste
0,05 litre brandy – for flambéing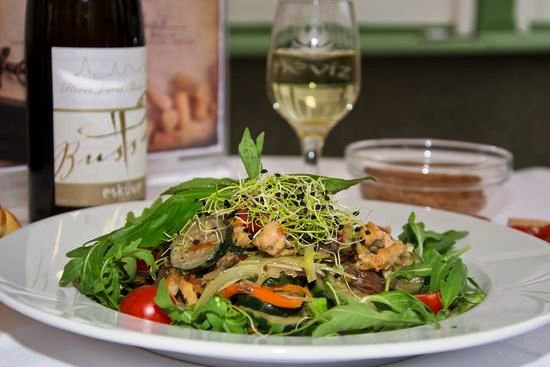 Preparation
Fry the vegetables cut into thin strips in a pan or a wok, add the mushrooms then continue to simmer. Make sure that the vegetables are not too soft. Season it with salt, pepper and add a little ground nutmeg. Pour some white wine and simmer it until it is ready.
In the meantime cut the chicken breast into thin slices, season them with grill spices and roast them. Pour a little brandy on them and light it.
Mix with the boiled vegetables, pour a little cream into it, sprinkle with fresh parsley and serve it.
Make sure that you freshly prepare the food!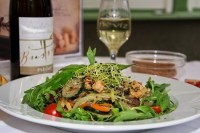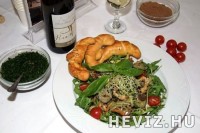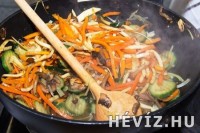 Rabbit ragout made with tasty wild mushrooms and a pinch of chilli served with vegetable rösti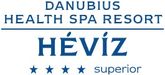 Kámán János Master chef's recommendation,
Danubius Health Spa Resort Hévíz
Ingredients (4 servings):
Rabbit ragout
80 decagram rabbit leg (prepared, cut into strips)
30 decagram wild mushrooms
20  decagram California peppers (cut into strips)
20 decagram tomatoes (without skin, cut into cubes)
chili pepper – according to taste
garlic – according to taste
1 decilitre wine of Hévíz, Bussay ESKÜVÉ 2011
salt, coarsely ground mixed peppercorns – according to taste
5 decilitre oil (for cooking)
Rösti
30 decagram raw potatoes
16 decagram cut vegetables
10 decagram onions (finely chopped)
5 decagram flour
1 egg
1 bunch of parsley
salt – according to taste
2 decilitre oil (for cooking)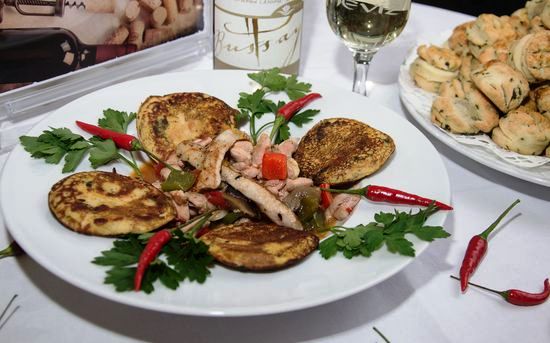 Directions
Prepare the rabbit leg to the rabbit ragout: bone it, then cut it into centimetre-thick strips, marinate it in oil and coarsely ground mixed peppercorns, if it is possible, the day before.
In a pan, in heated oil fry the rabbit leg strips, then add the chopped peppers, garlic and wild mushrooms, continue to fry it for a few minutes and at the end add the peeled tomato cubes. Season with salt, pepper, chili and white wine to taste, then boil it.
To make the rösti, grate the peeled potatoes, then mix with flour, egg, vegetables, parsley and fried onions. Season it according to taste, form small plates, then in a heated pan or on a griller fry both sides.
Then serve the so prepared röstis with the ragout.
Venison wrapped with porcini mushroom and duck leg with 'Esküvé' sauce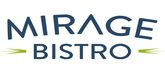 Szentgyörgyi Tamás chef's recommendation,
Hotel Mirage Restaurant and Diner
Ingredients (4 servings):
1 kg saddle of venison
0,3 kg duck leg
0,2 kg onion
0,05 kg garlic
0,05 kg juniper-berry
0,1 kg thyme
0,1 kg rosemary
0,15 kg root parsley
0,15 kg carrots
0,15 kg celery
1 bottle of 2011 Busai Esküvé "Wine of Town Hévíz"
salt, pepper / according to taste /
0,05 kg pine nuts
0,03 kg butter
duck fat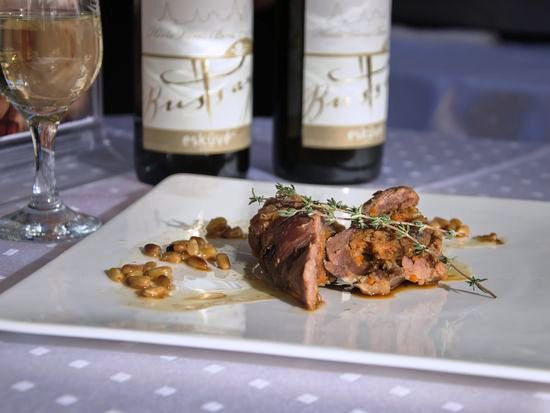 Duck ragout: Grate the carrots, the root parsley, celery, onions and garlic, then fry them in olive oil.
ESküvé sauce: Fry the pine nuts, juniper-berry and pour in the wine, season with salt and pepper to taste, then put butter into it to make it silky.
Preparation: Marinate the saddle of venison (marinade: oil, juniper-berry, rosemary, thyme)
Filet the wild duck leg, cut into small cubes, then put onto the fried vegetables and simmer until tender.
Take the saddle of venison out of the marinade and make an open slice of it, then lightly spread the duck ragout on it, roll it and bind it. In a pan fry the outer side of the meat to make a crust on it. Simmer it in its own fat, covered until it is ready. (approx. 30-40 min.)
Serving: Cut the saddle of venison into thin slices and serve it on the sauce. Sprinkle it with fresh thyme.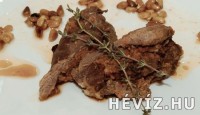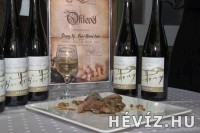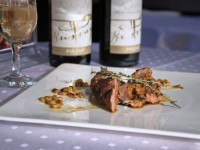 Blue catfish steak with algae tagliatelle and parmesan crisps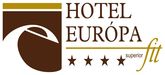 Sendula Péter Sous chef's recommendation,
Hotel Európa fit
Ingredients (4 servings):
800 gr catfish filet
400gr tagliatelle
120gr algae
2 cloves of garlic
1 decilitre olive oil
150 gr parmesan cheese
salt
1 decilitre white wine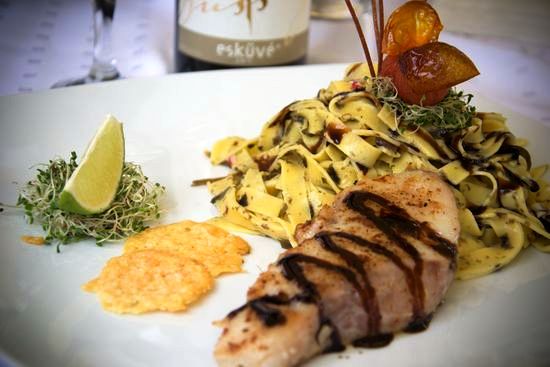 Cut the catfish filets into 2-centimetre slices, season with salt both sides, then put into a vacuum bag and simmer them in 45-50 degrees' steam for 90 minutes. Then without opening the bag put it into icy water or a thermal shock machine to cool it down. Put it in the fridge until use.
Cook the tagliatelle in salty water. While it is being cooked, prepare the algae.
Heat the oil in a pan, add the algae cut into thin slices and the chopped garlic. Fry it for a short time, then pour in the white wine. Stir the cooked noodles into it.
Take the fish out of the vacuum bag and fry both sides for a minute in a pan preheated to 180 degrees.
Grate the parmesan cheese for the parmesan crisps, put baking paper in a baking pan. Make small piles from the cheese and bake them for a few minutes in the oven preheated to 200 degrees.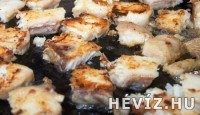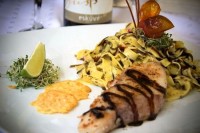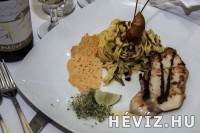 Veal ragout with cream and vegetables and dödölle of Zala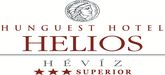 Mayer Tibor and Veress Ferenc Chef's recommendation, from Hunguest Hotels
Ingredients (4 servings)
1/2 kg veal round
1/2 kg porcini mushrooms
2 cloves of garlic
1,5 dl dry white wine
2 dl vegetable broth
2 dl cream
salt
freshly ground black pepper
1 bunch of parsley
2 tablespoons butter
2 tablespoons olive oil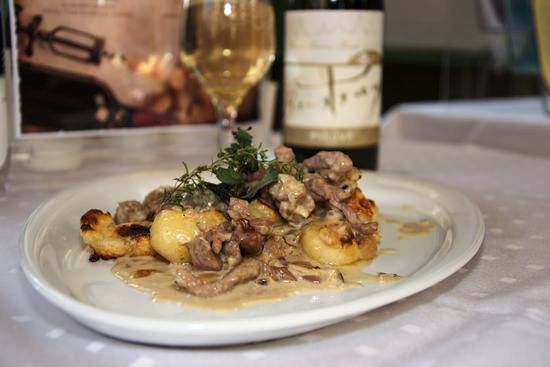 Preparation
1. Heat the mixture of butter and olive oil and fry the veal cut into small but equal sized pieces, seasoned with salt and pepper in advance, and the finely chopped parsley and garlic.
2.If every side of the meat cubes turned brown, pour the white wine and half of the vegetable broth. Cook over medium heat and half-covered until almost tender. Check it sometimes and pour some broth in it if it is not enough.
3. In the meantime clean the mushrooms, cut them and add them when the meat is almost ready. Pour in the remaining vegetable broth and cook it until it is ready. 
4. In the end pour in the cream and boil it. Season it with salt and pepper if it is necessary. If the sauce is too thin, thicken it with potato-starch.
5. Serve it with freshly chopped parsley.
Dödölle of Zala
2 kg potatoes, salt according to taste, 2 onions 2 dl oil, 50 decagram flour
This meal evokes my childhood, the free, barefoot summer times. My grandmother made it for me, whenever I wanted to. It is cheap, fast and very filling food. At the end of the month it stands everyone in good stead.
Peel the potatoes cut them into small pieces, pour salty water over them to cover and cook them. Mash the cooked potatoes over the heat then sprinkle with flour and start to knead with a wooden spoon. It is a bit tiring procedure. It is OK if the batter is hard enough and the flour is completely worked off – it can be more or less, it depends on the quality of the potatoes- and our forehead is sweating. Turn off the cooker.
Cut the onions into small cubes and fry them in oil until pink. Take a bigger pot and start to cut the 'dödölle' batter into big dumpling-shapes, then sprinkle with the onion and fat. If it is ready, serve it. It is very delicious freshly with sour cream, but if you have to warm it, fry it in a pan until it is crispy and serve it with some salad. Enjoy your meal!
Goose-giblets with rice
Goose-giblets
150 gram goose liver
3 carrots
2 turnips
a piece of celery
1 onion
200 gram green peas
a bunch of parsley
400 gram rice
a tablespoonful of goose fat
a tablespoonful of oil
salt and pepper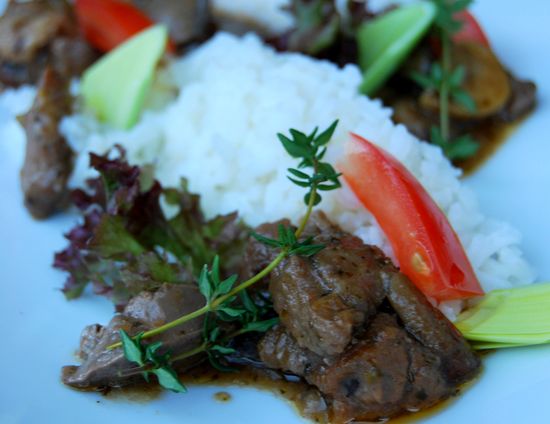 Put the goose-giblets into a saucepan with a carrot, a turnip and a piece of celery and add enough water to cover them, then cook until soft. If it is ready, take the meat out of the juice, unbone the wings and the neck, cut the lean meat into small pieces, and chop the heart and the gizzard as well.
Heat the goose fat, add the chopped onion and fry it until glassy. Cut the remaining two carrots and turnip into smaller cubes and add them to the onion. Add a little juice and cook the vegetables until soft. If it is almost ready, add the goose meat, the gizzard, the heart, the chopped goose liver and the green peas and cook them together until soft, then season it with salt and pepper.
Heat some oil in another saucepan, add the washed and cleaned rice and pour on it double quantity of water (a part of it can be the juice of the goose, but be careful, it should not be too greasy) and boil until soft. At the end, add the goose ragout with vegetables and the chopped parsley and cook them together for a few minutes.
Catfish fillet of Lake Balaton, wild mushroom ragout with spinach and garlic, rösti with cabbage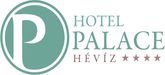 Tamás Gergály's recommendation,
Hotel Palace Hévíz
Catfish filet:
Catfish filet  0,8 kg
Butter 0,15 kg
Salt  0.02 kg
Ground pepper 0,001 kg
Wild mushroom ragout with spinach and garlic:
Spinach leaves  0,05 kg (1 handful)
Oil                 0,10 kg
Ground pepper      0,002 kg
Salt      0,02 kg
Mix of wild mushrooms 0,8 kg
Garlic          2 cloves
White wine         0,2 l
1 medium onion
1 bunch of parsley
Rösti with cabbage:
Sauerkraut  0,20 kg
Potatoes 0,1 kg
Salt  0,01 kg
Milk   0,3 l
Flour   0,15 kg
Oil  0,1 l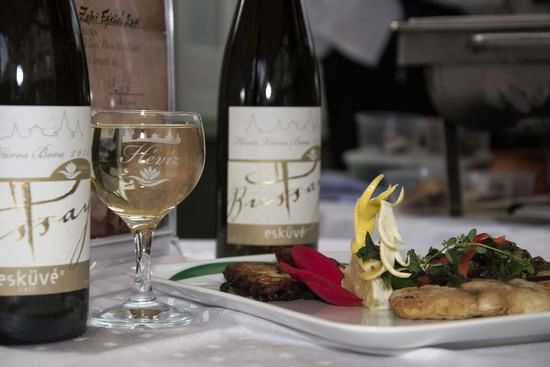 Directions:
Season the catfish filets with salt and pepper and refrigerate until roasting.
For the mushroom ragout chop the onions finely and simmer until it becomes glassy, add the chopped mushrooms, the chopped parsley and season with salt and pepper, then continue to simmer them together. If it is half-simmered, add the cleaned spinach leaves, season with crushed garlic, then pour the white wine and simmer until it is ready.
For the rösti cut the sauerkraut into 2-centimeter pieces, add the grated potatoes, salt and the flour, then pour the milk and make a medium-thick batter. In preheated oil fry the palm-sized röstis. In the meantime dip the prepared catfish slices into melted butter, put them on a preheated grill and roast both sides.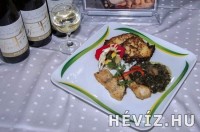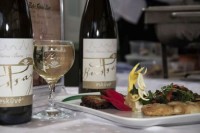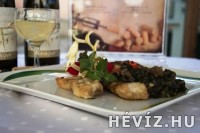 'Saltimbocco'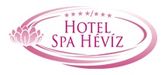 The recipe of Kovács Györgyné,
the chef of Hotel SPA Hévíz Platán Restaurant
10 servings
1.80 kg pike-perch filet of Lake Balaton
10 thin slices of dried ham
0.02 kg salt
0.001 kg ground pepper
10 sage leaves
0.1 liter oil
0.10 kg butter
0.20 kg flavour mushrooms from the woods of Hévíz
2 pieces of lemon
Saffron risotto
0.60 kg risotto rice
0.3 l Bussay Esküvé / or dry white wine/
vegetable broth as needed /approx. 1.3 l/
0.08 liter olive oil with truffle
1 medium white onion
salt
ground pepper
0.05 kg butter
saffron according to taste
0.20kg grated Parmesan cheese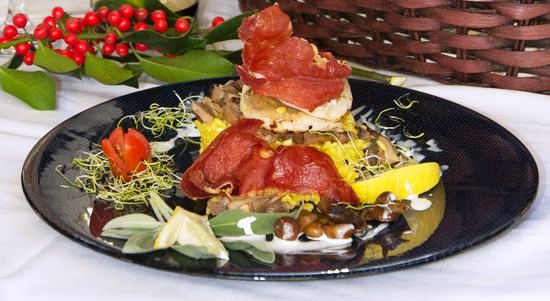 Directions:
Slice the fish filet, season it lightly with salt and pepper. Heat the butter and the olive oil up in a pan. Put the fish slices in and 4 or 5 sage leaves. Fry them until ready, put them on plates and keep them warm.
Quickly fry the thin ham slices until crispy, make crisps of them and put them on the fish slices. Season and fry the mushrooms in the rest of the oil.
At serving use the remaining sage leaves.
Saffron risotto
Finely cut the onion, fry the rise in half of the butter and the olive oil until glassy, pour the white wine and put the saffron in and cook it stirring constantly until no juice left. Pour the vegetable broth little by little and simmer it without covering over medium heat. Season it with salt, pepper and finally add the cheese and the butter.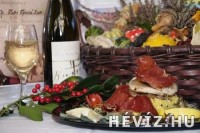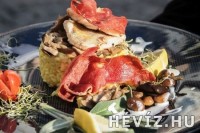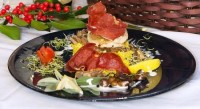 Duck pate with duck liver and wine gelee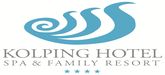 Lajos Bán Chef's recommendation,
Hotel Kolping Ltd.
Ingredients:
fatted duck liver: 0.25kg
duck breast filet(with skin) 0.15kg
toast with wild garlic: 10 slices
cream: 2 dl
salt, black pepper according to taste
allspice: 5 pieces
Bussay esküvé: 2 dl
gelatine: 1 tbsp
mixed green salads  5 bunches
broth  5 dl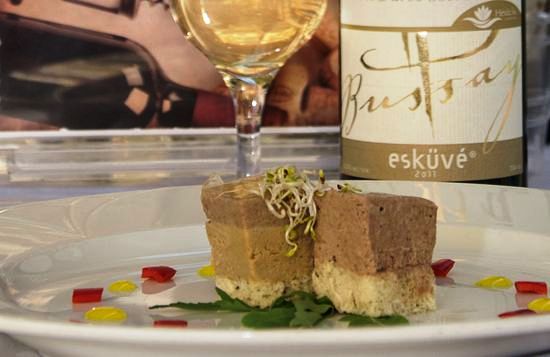 Directions:
Cut the liver into cubes, cut off the crust of the bread slices to get same sized slices. Season the breast filet with salt and crushed allspice and roast it in a 170 degree oven. Then cut it into cubes (leave a few thin slices for decoration).
Cook the liver, the breast and the bread with the cream and a little broth in a saucepan as a ragout and add a half tablespoon of gelatine. Put them into PacoJet dishes and put them in the freezer for 24 hours.
The following day prepare it in the PacoJet dishes, put the bread slices close to each other in a baking pan. Spread the bread with the liver and meat paste and put into the 0-5 degree fridge for 3 hours.
In the meantime heat the wine and cook the remaining gelatine into it. Pour it on the refrigerated pâté and leave it for another half an hour. 
At serving cut into nice cube shapes, place on green salad and decorate with the put aside breast slices.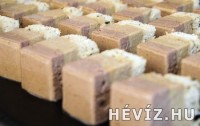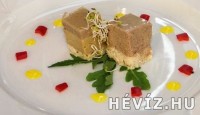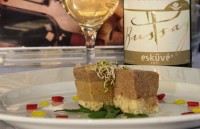 Small Festetics Christmas Skewers
Put round of mangalitza, mangalitza bacon, sausage, onion and kapia peppers one after another on a skewer, season it, then grill it. Serve it placed on lecsó (thick vegetable stew) with fresh wild mushrooms.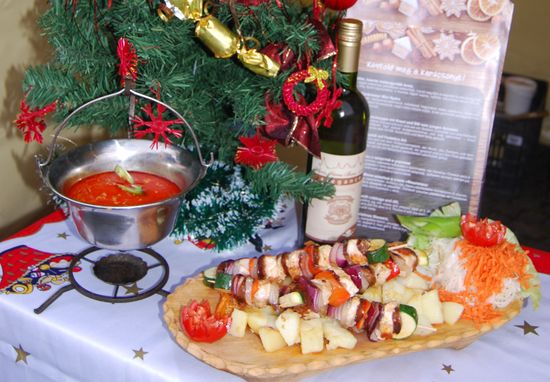 Cabbage with beans and knuckle of pork, Potato sterz
With recommendation of the Korona Pension***Restaruant
Ingredients, for 10 people
Sauerkraut 1 kilo
Onion 0,2 kilo
Lard 0,0,5 kilo
Garlic 0,05 kilo
Paprika 0,0,1 kilo
Flour 0,08 kilo
Tomato paste  80 gram
Smoked knuckle of pork 2 pieces
Dry beans 0,4 kilo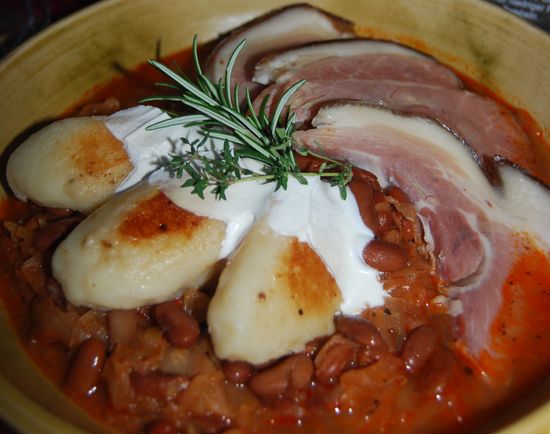 Cook the knuckle of pork and the beans, cut the saurerkraut.
Fry half onion rings in some lard or oil, add the crushed garlic, salt and paprika to it. Pour in the juice, in which the knuckles were cooked, then add the sauerkraut as well. Cook it for an hour, then add the beans. Make roux, add the tomato paste then mix it with the sauerkraut and cook until ready.
Slice the knuckles and serve them together.
Potato sterz:
Cook the sliced potato in salty water. Mash it and mix it with flour (as much as it needs). Simmer it until the potato is completely mixed with the flour. Simmer the onions in lard or oil. Put spoonfuls of dough in hot fat and fry them until brown. Season it with sour cream and cracklings.
Bejgli – Poppy seed or walnut roll
Rácz Bakery's recommendation
Dough:
1 kilo flour
400 gram lard
150 gram sugar
20 gram yeast
15 gram salt
4 dl milk
1 egg
Ingredients of the walnut filling:
0.5 kilo walnut
250-300 gram sugar
a pinch of cinnamon
grated orange peel
1 dl hot milk
Ingredients of the poppy seed filling:
0.5 kilo poppy seed
0.5 kilo sugar
vanilla sugar
grated lemon peel
rum (according to taste)
1 dl hot milk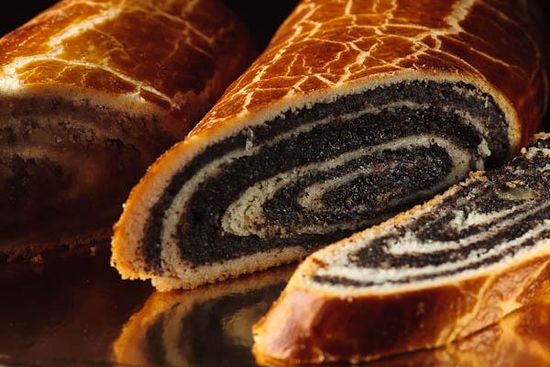 Knead the dough and put it into the refrigerator for at least 6 hours.
Prepare the desired filling.
After 6 hours take the dough out of the fridge and let it rest for an hour at room temperature, then roll it out to the required size. Spread the desired filling on the entire surface in such a way that the thickness of the dough and the thickness of the filling would be the same. Roll it, so you will get a bejgli roll. Smear the surface of the roll with egg yolk, then put it in a cool place for 1.5 hours. After 1.5 hours smear it with egg yolk again. After another 1.5 hours' rest in a cool place smear it with egg white as well.
Raise the so prepared dough further for a short time, then bake it in the oven at 200°C for 30 to 35 minutes until it is ready