Dear guests!
Due to the pandemic situation, from 1 December 2020, Lake Bath will be closed until further notice.
Il lago medicinale di Hévíz é il lago termale naturale biologicamente attivo piú grande del mondo, che rinfresca al tempo stesso il corpo e lo spirito.
Il lago, della grandezza di 4,4 ettari, con sorgente profonda 38 metri, é alimentato da una sorgente contenente zolfo, e sostanze minerali, la cui abbondante portata d'acqua fa sí che nell'arco di 72 ore vi sia un ricambio d'acqua completo. L'acqua del lago di Hévíz é ricca al tempo stesso di materiali disciolti e di materiali gassosi, e unisce le proprietá favorevoli delle acque medicinali contenenti anidride carbonica, zolfo, calcio, magnesio, idrogenocarbonato.
D'inverno la temperatura dell'acqua é 23-25 °C, mentre d'estate raggiunge anche i 33-36 °C. La sua acqua é in continuo movimento: da un lato ruota lentamente da sinistra a destra, dall'altro invece dal basso verso l'alto (dato che l'acqua calda tende sempre a muoversi verso l'alto mentre quella fredda va a fondo). Questa corrente bidirezionale mantiene in continuo movimento l'acqua del lago, e per questo i bagnanti avvertono una sensazione simile ad un massaggio.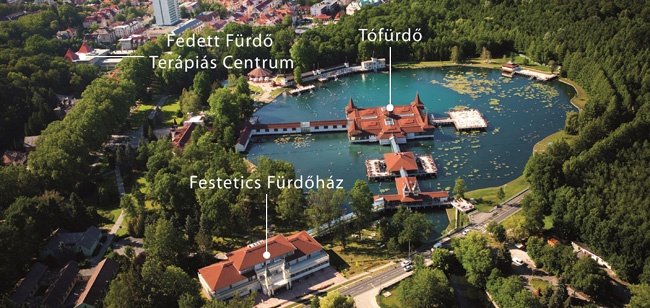 A Hévíz é possibile trovare praticamente tutti gli elementi della guarigione naturale e del mantenimento della salute, che come minuscole particelle che abboccano tra loro formano un insieme.
Questo insieme puó essere descritto con un unica parola, la parola salute. Gli elementi hanno un effetto guaritivo anche di per sé, ma la presenza congiunta puó essere applicata con maggiore efficacia sia nel corso della guarigione che della riabilitazione e del mantenimento della salute.
La base di partenza degli effetti guaritivi di Hévíz é pertanto la cura dei bagni, ma anche altri trattamenti terapeutici specifici, quali ad esempio gli impacchi di fango, la famosa idroterapia con i pesi, i massaggi e la cura idropinica.
| | | | | | |
| --- | --- | --- | --- | --- | --- |
|   | Aperta | Chiusara della cassa | Fine dell bagno | Fine dell wellness | Chiusara dell bagno |
| Schulhof entrance | - | - | - | - | - |
| Festetics Day Spa | - | - | - | - | - |
| Deak square entrance | - | - | - | - | - |