Those longing for adventure, experience and relaxation will be guaranteed to enjoy themselves if they take a tour with us. The original American Segway provides a supreme experience. You would not believe how easy it is to use! It allows you to feel freedom and the untouched sensation of melting into the nature, and it also helps to get over our physical boundaries. It is simply a wonderful experience, which may return even in our dreams. It is a must to try it.
Segway tour from 18.000 HUF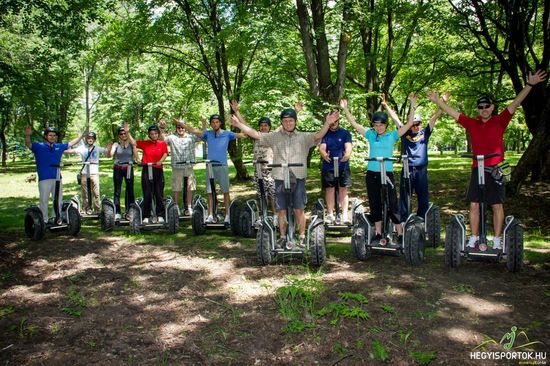 SEGWAY TOUR OFFERS

CHERUB SEGWAY TOUR 

Basic tour for beginners. The tour offers the opportunity to use the skills acquired on the training session on real tour tracks led by an instructor.
(about 1 hour, 5-6km)

The basic tour is recommended for those who became interested in the special facilities of Segway on the training session, and would like to improve their skills. The basic tour provides safe and well-established Segway rides this time on real tracks. It is good fun for the elderly as well, since it requires only concentration, and not physical endurance.

 
ROMAN DISCOVERY TOUR

Discover all the beauties of Hévíz on Segway. On this beginner tour, the whole family may wander in the town of secrets together. This tour is warmly recommended for the elderly, too.
(about 2 hours, 10km)
On our tour, you will not miss visiting the splendid Hévíz Lake, which is approached via the busy shopping street and Schulhof Vilmos Promenade. However, the adventure only begins with a roaming in the wild and romantic Forest-park on our vehicles. Your adrenaline level surely won't drop, as the next stop of the tour is the St.Magdalene Church, but on the way, we also pay a visit to the Tomb of the Roman soldier, the Heart of Jesus Church and the Roman-ruins Garden.
ROMAN ARENA CROSSOVER VIP 

A tour of medium difficulty having special programme elements for Segway riders with some experience. This tour – led by an instructor – is focussing on the explorers, heroes and people with high life-affirmation.
(about 3 hours, 17-20km)

This crossover includes the playfulness and the discovery of Hévíz of the Roman tour, but it offers even more: the Festetics Palace, Lake Balaton, the splendour of Keszthely and the wild and romantic landscape embody the essence of this tour.