Transport / trafikk i byen
Due to the situation developed by COVID-19, all parking zones are free of charge until further notice!
Parkeringszoner og -avgifter
Busstrafikk
Alle offentlige transportbusser som kjører til Hévíz stopper på busstasjonen på Deák plass som er trafikk-knyttepunktet ved siden av Sjøbadets ("Tófürdő") nordlige inngang.
Med tre avganger per dag kjører togene med gummihjul mellom april og oktober. På turen som fører man gjennom gatene i Indrebyen og byens severdigheter henter togene sine reisende hele veien til den poplulære underholdningsdistrikten i Hévíz: vinveien i Egregy ("Egregyi borút").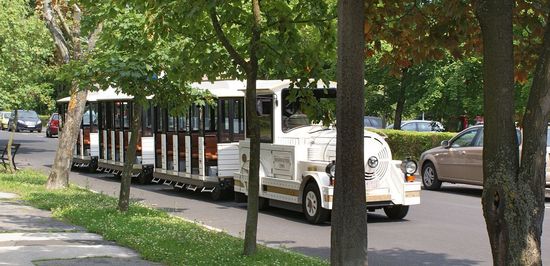 Sykkelutleie
Det finnes flere penere og penere sykkelruter rundt omkring Hévíz, med stor variasjon når det gjelder bratthet, som er verdt å besøke / sykle på!  Søk blant våre tureruter! På Tourinform Kontoret finnes det mulighet til å leie sykkel enten for 2 timer eller for en hel dag. Koster sykkelutleie for 2 timer 1000 HUF, mens for en hel dag koster det 2 200 HUF.